These days, nearly half of the world's population uses a smartphone. The annual spending on new smartphone hardware exceeds $370 billion. According to the report by Counterpoint, due to the growing availability of affordable smartphones, an average global end-user replaces his device after 21 months.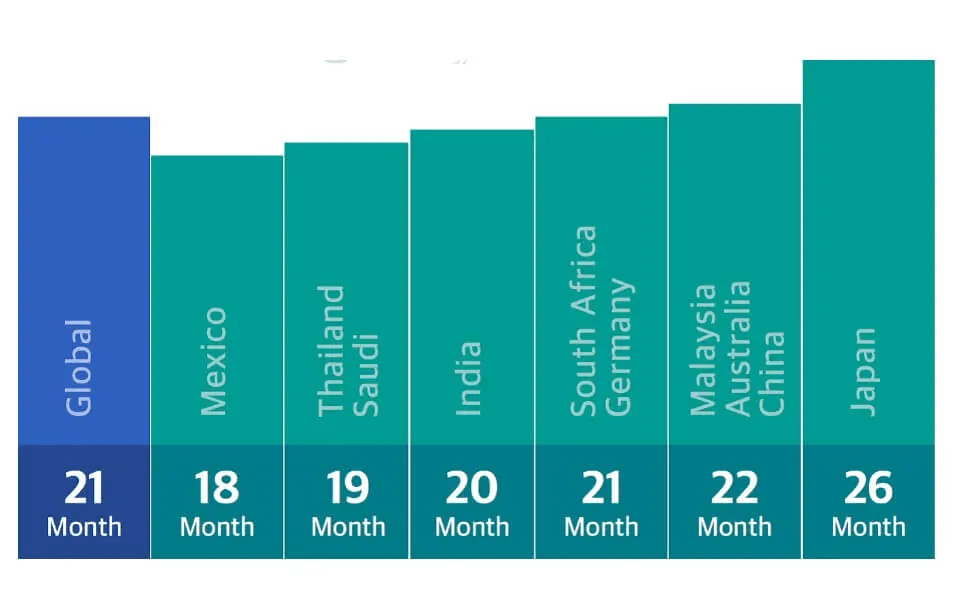 What does this mean for retailers and wholesale businesses? More and more end-users tend to choose used, renewed, or refurbished devices instead of purchasing new ones, about once in 2 years. Multiple statistical data prove this fact and the growing trend. The majority of Asians are willing to spend $400 or less when picking a new phone - check another proof taken by the Counterpoint research team.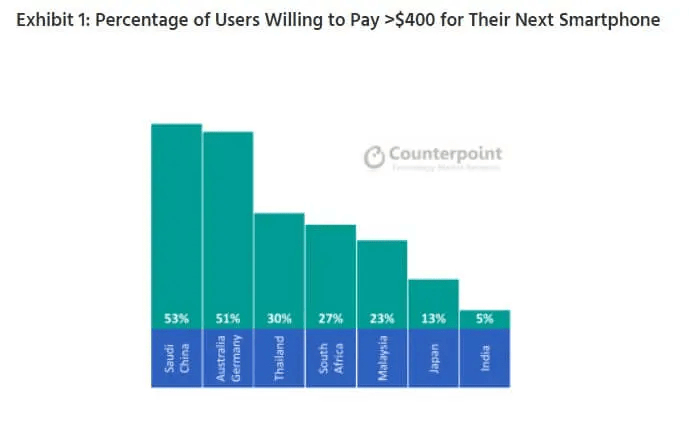 The market of used and refurbished phones in developing countries
However, this is only one of many reports with current statistics on the use of smartphones all over the world. Our company that specializes in software for mobile diagnostics constantly collects the data about the appliance of renewed and refurbished phones. And our figures prove the statistical report given by PersistanceMarketResearch about the potential growth of the global used phone market.
As expected, the demand for refurbished and used smartphones in developing countries (like the Philippines, Thailand, Mexico, Russia, India, Brazil, and Argentina) is much higher than in other countries.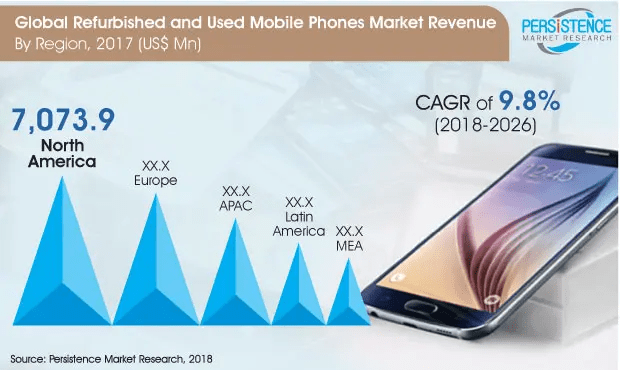 In these developing countries, consumers are very price-sensitive and they mostly pick up low-cost goods, including electronic devices. However, the market of used and refurbished phones in most demanding countries is extremely unorganized, the companies tend to stay in the grey zone when it comes to paying taxes. The niche is very tight, but, at the same time, official companies tend to grow their business here, especially if they provide warranties for used phones.
The U.S. market of renewed and used smartphones
In the USA this market is also very popular. In 2017, according to PersistanceMarketResearch, the global refurbished mobile phones market was worth $19 billion. In Q2 2018 it grew 10% YoY compared with the market for new smartphones. By the end of 2026 is expected to exceed $44 billion.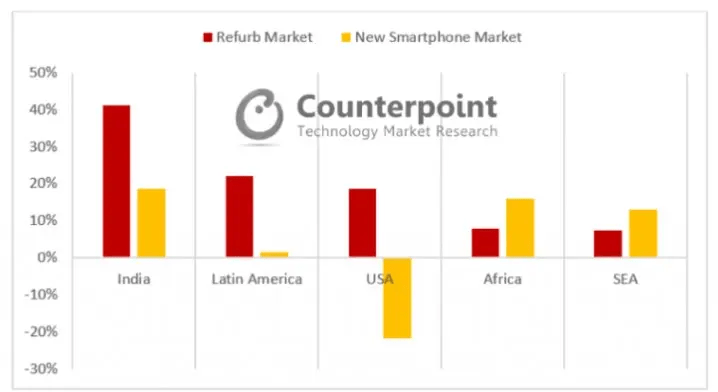 In developed countries like the U.K., Italy, Germany, France, and the U.S. most users of the loyal consumer base are tech-savvy. That's why they tend to replace their old phones with more advanced and newer models. But at the same time, they are not ready to spend a lot on purchases of new smartphones. This is the reason why so many users from developed countries prefer selecting used, renewed, and refurbished phones with all advanced features at low prices or with discounts.
Unlike the developing countries where people buy used and refurbished devices from small retailers and buyback sellers, Americans choose huge retail and wholesale companies with a trustworthy reputation to replace their devices:
Best Buy - because they offer discounts up to 30%;
Samsung - offers substantial discounts for the models that are older than 1 year;
Apple - has a Certified Refurbished program worldwide. Like new products backed by a one-year warranty;
Amazon - also has its own Amazon Renewed program with refurbished, pre-owned, or open-box products as high-quality like-new "Certified Refurbished" products at greatly reduced prices. In January 2019 the new deal between Apple and Amazon came into force. Amazon's new policy allows only Authorized Apple Resellers to sell Apple products;
Gazelle built its business by refurbishing and selling phones bought from their regular consumers. But they lack the brand diversity and can offer a small selection of brands - mostly just Google, Samsung, and Apple devices;
Verizon, T-Mobile, AT&T, and other mobile service providers also move in this direction.
Most of the mentioned companies and suppliers offer guarantees when selling used or refurbished phones.
Using NSYS Diagnostics - a certified mobile phone diagnostic software - will help you to prosper in any country that is profitable to grow the business of used and refurbished devices. In addition, you may understand what strategy to use for making the business successful with a minimum investment of time and money.