Companies that buy and sell used iPhones and Android-based phones need to test the hardware of mobile devices daily. To make sure that all the mobile devices are in proper functional condition, they run hardware tests. There are different ways to inspect device functionality. They can vary depending on the device brand and even the model. The diversity of hardware tests has become one of the main reasons why mobile businesses make mistakes when checking phones in batches.
iPhone hardware check
Using an IMEI number. If you have iPhone's IMEI number you can get basic information about the device. IMEI number allows you to access the cell phone network and get the information about the device's Blacklist status and whether it was refurbished by Apple or not. Moreover, the IMEI number provides information about the warranty, purchase date, and Carrier Lock.

Using an automated solution. With the software solution, you can check the phone hardware, including WiFi, display, touchscreen, camera, sensors, storage, battery, NFC, the originality of the smartphone parts, and more. Moreover, after the diagnostic is completed, you can download the report about all the hardware flaws and then print a certified label. By affixing certified labels to tested iPhones, companies provide to their customers assurance of the device quality.

This is the best option for businesses that need to know more than just BlackList status.

Android hardware diagnostics check with software and codes
Manual built-in test. Android devices are easy to be tested by an internal testing tool. This feature can be accessed on several Android phone models only. To check if a phone has this internal tool or not:

Launch your phone's dialer.
Enter one of two mostly used Android diagnostic codes: *#0*# or *#*#4636#*#*. Codes may vary from device to device.
*#0*# code would offer a bunch of standalone tests that can be performed to check the performance of your device's screen display, cameras, sensor & volumes/power button.
*#*#4636#*#* code would showcase the information, related to the current service carrier, IMEI number, phone number, app usage history, data network connection stats, Wi-Fi status, etc.
Use *#06# to display your smartphone's IMEI number.
*#*#0*#*#*  can be used to test your smartphone LCD Display.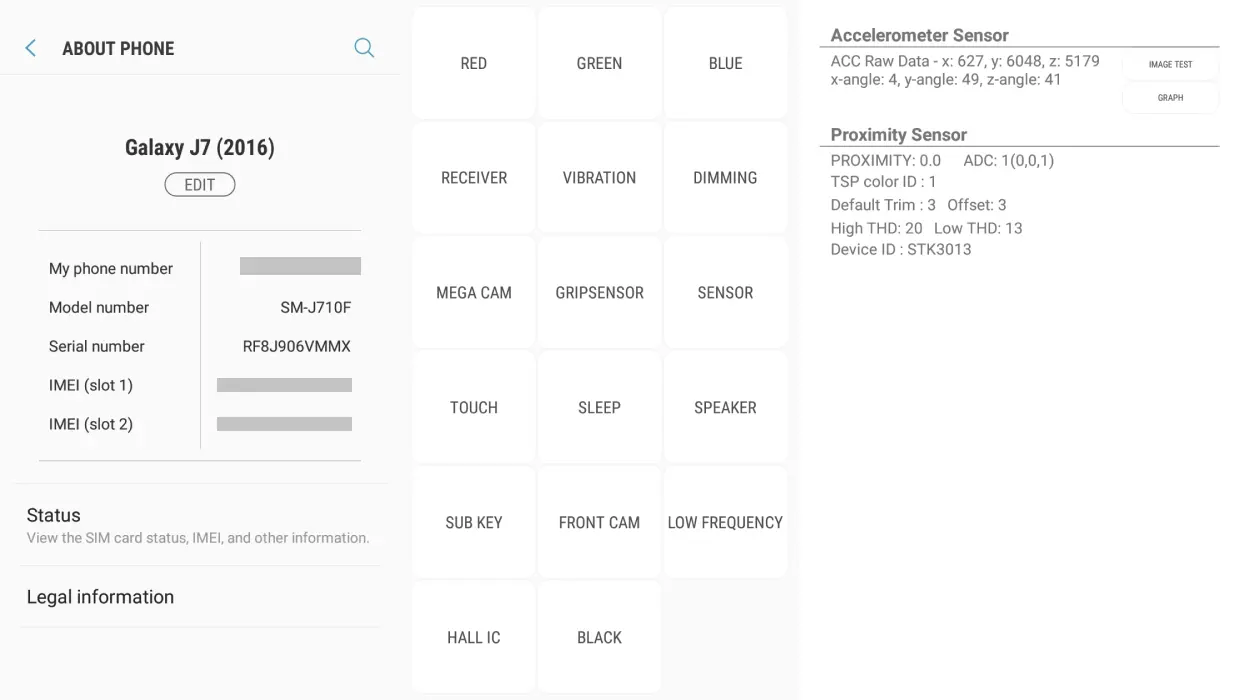 Full hardware check with software. Using an automated solution allows you to test any Android device completely from buttons to battery authenticity. At the end of the diagnostics process, you get a full report of the device hardware specifics, such as battery, speakers, buttons, etc.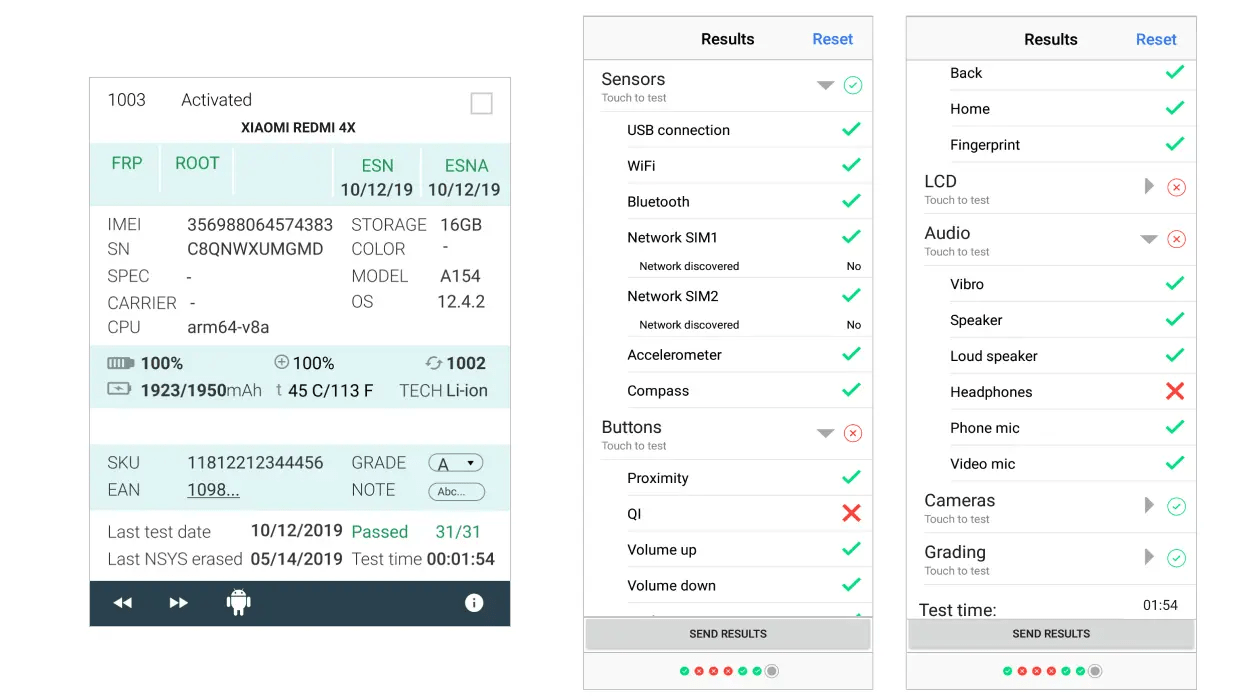 Our solution for mobile diagnostics allows to check the whole stock of any Android and iOS devices by a variety of parameters:
Sensors (Bluetooth, Wifi, NFC, Light Sensor)
Audio system: all microphones, volume buttons, and headphones
Touch (TouchScreen, MultiTouch, 3D Touch)
LCD display (Originality check and dead pixels)
Authenticity check (Cameras, LCD screen, Touch ID, battery, motherboard)
Battery (Cycle counter, health, stress test)
Cameras (Including Ultra Wide camera)
Moreover, the solution has a feature of grading from A+ to D-, which is made manually by testers. It helps to rank the whole stock depending not only on the hardware but also on the cosmetic condition of each smartphone.
So, the best way to test mobile devices properly is to use an automated solution, which will provide your testers with the extensive testing tools. As a result, all phones will be checked in accordance with market standards, and you can sell your stock more profitable.