Smartphone diagnostics are important for any mobile phone business operating on the market and trading mobile devices.
When a new batch arrives, there is no time to check each phone for functional and cosmetic defects. For instance, wholesalers may inspect random devices from the batch manually to save time. Because of this, they may miss important phone defects and, as a result, the quality of their products goes down, and the quantity of RMAs grows.
Similarly, in the mobile buyback industry, where every mobile phone test impact on the final price and business profitability. Here are a bunch of factors that lead to inaccuracy in the cell phone evaluation: some of them are connected with functionality faults, some with IMEI issues.
Even refurbishers are interested in doing refurbished phone checks. The main reason is to provide customers with the best quality while selling them pre-owned, but looking like a brand-new smartphone. As trade-in businesses, refurbishers always pay attention to the tests connected with IMEI: BlackList, Simlock and etc.
As a global provider of an acclaimed software solution for mobile phone diagnostics, we have identified the most demanded iPhone and Android phone tests that are important for every industry in the secondary mobile phone market.
Phone battery test
Usually, phones are used by the first owner for about two years. During this time, the device battery becomes less durable with every month. As one of the most important smartphone parts, battery defects are very critical for the performance.
A mobile battery test shows whether the device is worth to be bought or notNSYS Tools provides one of the most advanced phone battery checks on the market today, and includes five components:
Battery stress test
Battery health check
Battery cycles check
Current capacity check
Design capacity check

Replacement parts detection
According to our data, almost 30% of used devices have a non-OEM screen.
The market of pre-owned mobile phones has become flooded with devices with non-OEM/copy parts that are not always easy to detect during manual phone check. For example, a refurbished phone check is always required replacement parts detection.
Tests that reveal the authenticity of phone parts, such as non-OEM LCD display or touch ID replacement helps buyers and sellers to avoid unprofitable deals.
NSYS Tools determines authenticity of:
LCD display 
Battery
Touch ID
Back camera
Front camera
Motherboard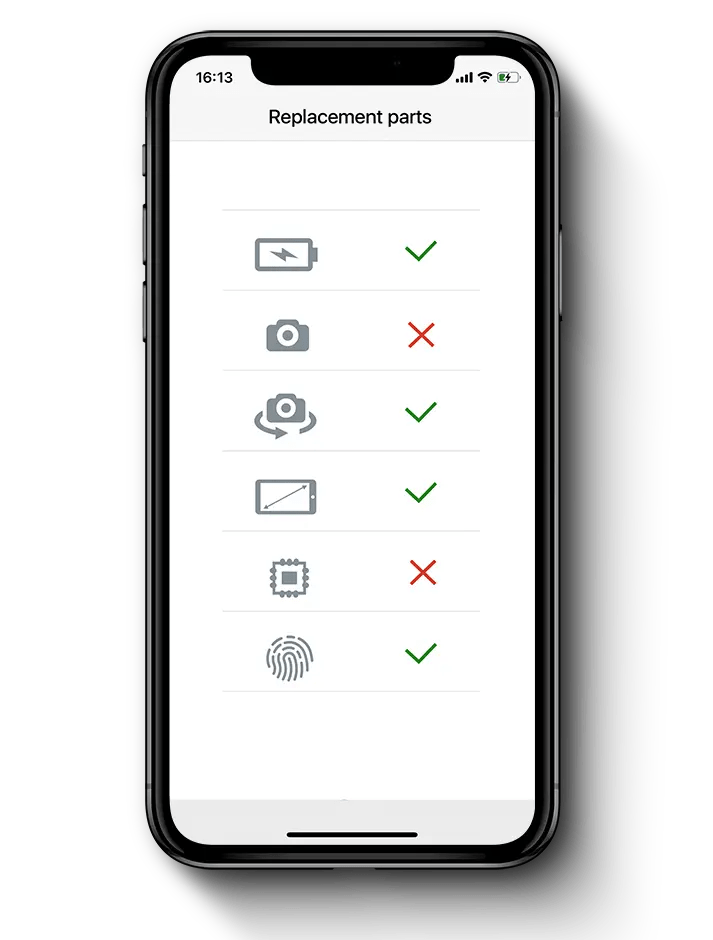 iPhone and Android phone screen tests
A dead pixel can appear on every model of Android device or iPhone. If a phone already has dead pixels on its screen, you will have to replace it anyway. The main importance of a phone display check is not to sell a broken device and not to get it returned after.
NSYS Tools helps to detect and possibly replace it. Another screen issue is touch faults – dead areas on the display, 3D Touch, and Multi-Touch issues. These tests are crucial because modern-day smartphones use capacitive touchscreens and if the touch doesn't work properly, you will not be able to use it.
NSYS Tools provides tests for iPhone or Android screen components:
Colour screen
3D Touch
Touch screen
Multi-touch
LCD pixels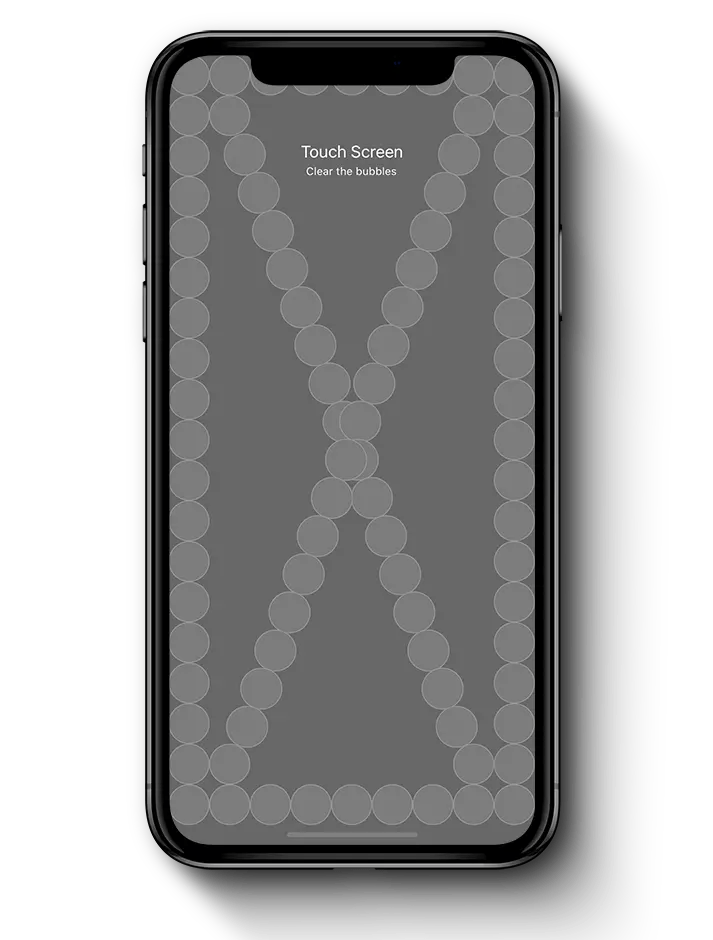 Phone audio tests
The main task of the phone is to connect people. We want to hear when somebody calls us and to be heard while talking. In case of poor quality of the microphone or/and speakers, the basic function of the phone cannot be performed. This is why it is so important to make the phone audio check.
We also have phone audio tests that will check all the speakers and microphones in every iOS/Android device. Thus, NSYS Tools tests the entire audio system of the cell phone completely.
Vibrotest
Bottom speaker test
Loud Speaker test
Earphones test
Rear microphone test
Bottom microphone test
Front/receiver microphone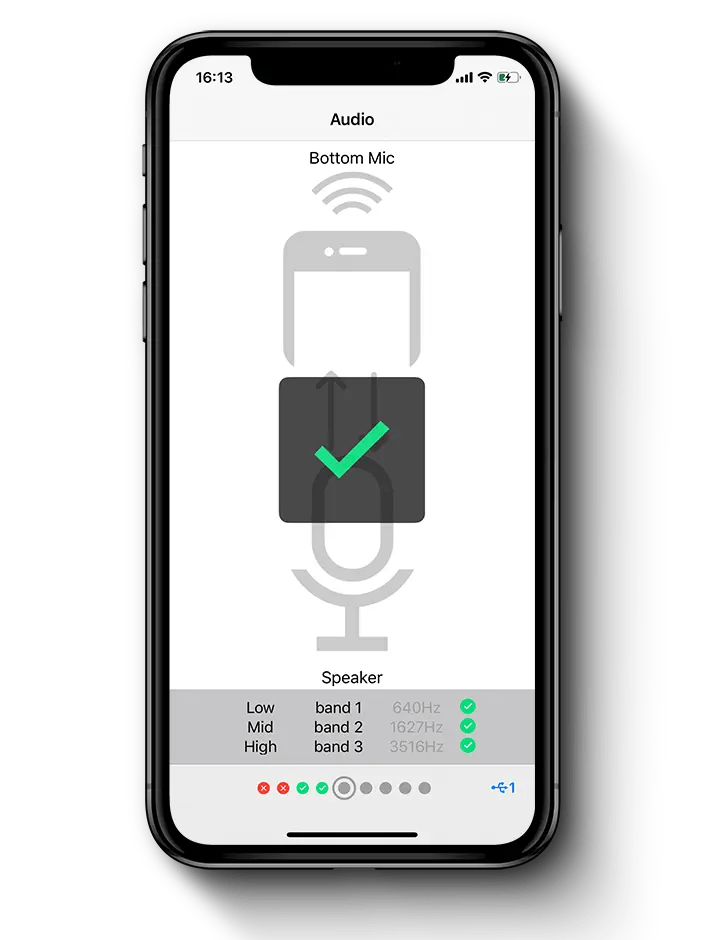 Ultra Wide Camera test
We check all types of phone cameras, including the newest Ultra Wide Camera.
Our solution presents a unique test for checking Ultra Wide Camera on the iPhone 11, since this model has already appeared on the secondary market. The essence of the test is to reproduce the performance of the camera.
NSYS Tools provides next mobile camera tests:
Front/Back/Telephoto camera test
Ultra-wide camera test
Flash test
Face ID check
With NSYS Diagnostics solution you can run more than 60 automated and semi-automated tests and detect more than 100 defects. Diagnose your stock faster and more accurately!