In autumn 2018, a number of Apple refurbishers received a letter from Amazon announcing a new agreement with Apple. The company states that the deal should enhance the customer experience by giving them the product "customers want". Amazon instructed those who want to continue to sell Beats and Apple products to contact Apple directly.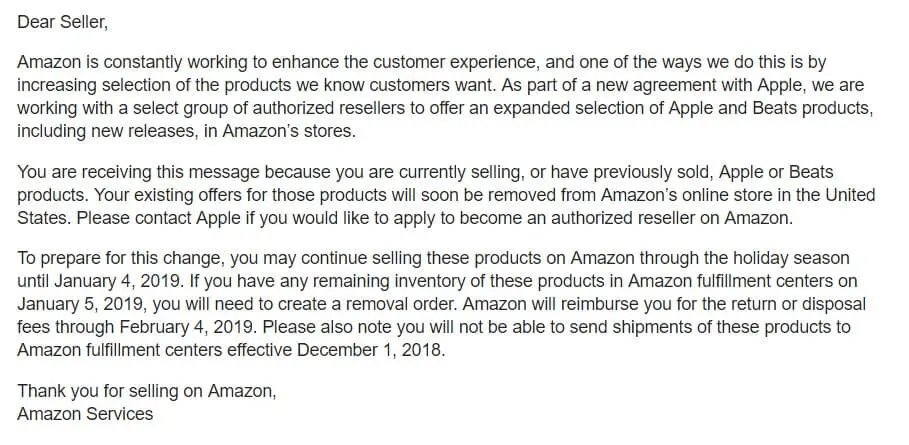 Amazon's new policy no longer allows small businesses to sell Apple products unless they are Authorized Apple Resellers. That means they are required to provide "invoices dated trailing 90 days that total $2.5 million in sales of Apple products" to continue to sell them after January 4, 2019. Those who do not meet the qualification requirement can list their products with the Amazon Standard Identification Number under the "Used" category. The deal between Amazon and Apple applies to Amazon sites in the US, UK, Germany, Italy, Spain, France, Japan, and India.
Amazon claims that its Renewed Certified Refurbished Program won't be affected by the Apple agreement, but it is clear the program will eliminate a huge number of small e-commerce companies from selling refurbished Apple devices on Amazon.
According to CNBC, "About 71 percent of Apple's sales in fiscal 2018, ending in September, were through indirect distribution channels like Amazon."
Amazon, the largest online retailer in the US which has nearly 50% of the US e-commerce market, launched the Amazon Renewed program in 2017. Only selected sellers and vendors who successfully went through the application process were allowed to participate and sell refurbished, pre-owned or open-box products as high-quality like-new "Certified Refurbished" products at greatly reduced prices.
The requirements to qualify as a seller on Amazon Renewed are:
Invoices must be dated within 90 days of application showing a minimum of $50,000 in qualifying refurbished purchases;
ODR (Order Defect Rate) of 0.8% or less, with a minimum of 700 orders within the previous 90 days (for an existing seller on Amazon)
90-day warranty on all certified refurbished products
Submit a minimum of eight images of a sample unit for product and packaging review for a product without manufacturer warranty;
To list Apple devices, the seller needs at least $2.5 million in invoices for wireless devices within the previous 90 days. Invoices must be from a national wireless carrier or retailer with at least 5 billion dollars in annual sales.
Approved sellers on the Amazon Renewed Certified Refurbished program provide a full diagnostic test and secure device erasure, replacement of any defective parts, and repackaging including accessories. Wireless devices must have batteries that maintain at least 80% of their original capacity. Any exceptions should be mentioned on the product detail page. "Certified Refurbished" have no visible cosmetic imperfections when held 12 inches away and have to be backed by a separate 1-year warranty in the EU (minimum 90-day warranty for the US) by the seller, the manufacturer, a third-party refurbisher, or in case of products sold by Amazon, by the vendor.