Over the past year, we have been researching the mobile trade-In market, its trends, and prices. While the pandemic hit many companies around the world in Q2 2020, the aftermarket continues to be resilient and full of business opportunities. One of the most striking trends is the gradual growth of the trade-in market.
Another trend for Q3 2020 is the launch of the new 5G iPhone 12. Despite the fact that there are already 5G smartphones available on the market, the release of iPhone 12 will increase the hype for this kind of network. Therefore, it will positively affect mobile trade-in and buyback programs.
5G iPhones increase customers demand for mobile trade-in
Companies, specializing in iPhone trade-ins have suggested that customers are going to sell or trade-in their iPhones quickly when the iPhone 12 is launched. The resale value is expected to fall twice as fast as before due to the high expectations of 5G network support. So, those who provide trade-in services will definitely feel the impact soon.
The resale value of any Apple smartphone usually follows a fairly stable way: a significant drop almost immediately after the purchase (the difference in value between a new and a pre-owned device), then a stagnancy period that lasts until a new model launches.
In anticipation of iPhone 12, this year's release could lead to an even faster decline in the cost of older models that are not 5G compatible. On the other hand, people want to be sure they are getting the most out of their old device. Therefore, those companies that will be able to provide the most favorable prices for customers will be in the most advantageous position.
Apple's trade-in vs other trade-ins
The research found that iPhone X and iPhone 8 Plus have the biggest difference in trade-in prices between Apple and other companies - both with a gap of 36 percent.
For example, iPhone X, which was launched in 2017, can be sold for $316 to Apple and approximately $428 for another private company. A difference of $112 is huge if we talk about selling an old iPhone!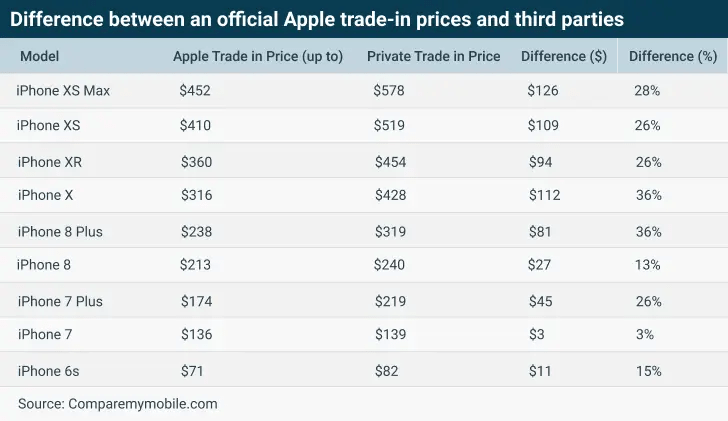 Moreover, Apple doesn't even include iPhone 11 in its swap portfolio right now, but CompareMyMobile estimates the range of devices from third-party companies between $662 and $925.
It gives an opportunity for retailers, repairers, and wholesalers to start BB/TI business in Q4 2020.
Benefits for mobile traders
While wholesalers have been impacted by declining exchanges from mobile carriers and retailers, trade-in companies that buy directly from customers are maintaining business growth and further market opportunity.
During Q1 and Q2 2020, when most transport routes were closed due to the pandemic, the wholesale industry has been suffering from a lack of supplies from physical retailers. But trade-in service filled the gap in the industry during the lockdown, thanks to the online options.
Moreover, even retailers appeared to be in a beneficial position: those, who provided online trade-in and buyback services were able not only to stay afloat but also to increase their revenue during the spring of 2020.
The Evolution of trade-In and buyback Programs
In the past, mobile device trade-in took place almost exclusively at the point of sale. While the point of sale is generally still an important part of any BB/TI process, this aspect of mobile carriers, retailers, and OEM operations was absent in Q1 and Q2 2020.
Since many companies were closed, the question arose, how did this affect the secondary mobile market? Despite the lack of offline retail stores, trade-in and buyback programs still returned $226 million to customers. HYLA data showed that online device sharing increased by 66% for the same period in 2019 and 172% for Q1 2020.
From assessing the cosmetic condition of a device to collecting market pricing data, the industry continues to adapt to changing needs, enabling a full online experience.
The ability to maintain supply and demand in the mobile aftermarket only proves that the mobile industry has grown significantly over the years.
Here goes NSYS Buyback, an automated solution for companies operating with trade-in and buyback programs. The solution helps to increase profit from BB/TI deals, eliminate unnecessary costs, and grow customer loyalty.
Fully customizing tests for identifying the accurate value of the devices
Trade-in value based on market prices
Cloud-based solution collects data of all deals
Built-in and simple device diagnostics process
Integration of any existing list of devices
Runs perfectly on any Windows and Mac OS X