With an increasing number of people upgrading their phones every year, there is a huge supply that can be sold in the secondhand market. Fast and accurate processing is crucial for vendors looking to maximize operational efficiency. There are plenty of methods to manage the workflow and streamline productivity, and we are here to help.  
Smart buy = profitable sale
We've already talked about what's stopping your used phone business from growing and scaling. The main reason for people not buying or selling their gadgets to you are unfair prices. One of the best ways to improve efficiency is to gain visibility into incoming trade-ins while the smartphones are still at the point of sale. 
If you purchase devices from the public or run trade-in programs, you cannot do without the help of a special buyback program, so both the consumer and seller can expect an accurate cost for exchange.
NSYS Buyback is a set of tools to assess the price of stock and prove to your customers and partners that the cost is objective and justified by the quality.

Reduce time for testing and evaluation
It is important to strive to increase the quantity without losing quality. Workflow automation speeds up the assessment up to 90%, so operators can handle way more items per hour, and you save on wages. Human errors when working with the software are minimized.
NSYS Diagnostics provides comprehensive automated smartphone diagnostics with over 60 various functional tests. With NSYS Autograding, an Al-based cosmetic check is performed as well.
Customizable NSYS interfaces allow you to streamline testing by doing only procedures that you need and skipping those you don't. Training and daily performance of managers, in this case, are greatly facilitated.
Don't Neglect Security Certification
Ensuring transparency and confirming the worth of goods is a vital competitive advantage. NSYS Data Erasure offers advanced full data erasure in line with market standards.
Certified cyber security for you and your clients. NSYS data erasure technology is ADISA-certified and guarantees that there is no trace of personal data left on traded devices. Customer information is wiped in accordance with data protection regulations such as NIST and R2.


Nothing to be lost
The products should be sorted by brand, model, and condition, making it easy to identify what is worth refurbishing, recycling, or disposing of. 
Here, more than anywhere else, accuracy is essential. Excel documents are not convenient when it comes to large volumes. To achieve efficiency at this stage, we came up with NSYS Inventory, a warehouse management system designed specifically for the used device industry, providing IMEI-tracking, multiple warehouses support, unique analytical tools, and much more.
Validate marketing perspective
This involves reaching out to potential customers and showcasing your stock. It's important to provide detailed information about the phones and proof the grade with the necessary certificates. Giving a warranty also helps to enlarge sales. It is only possible in the case of one hundred percent sure of the quality.
When testing techniques with NSYS Diagnostics, you receive market-recognized diagnostic certificates that greatly elevate your credibility as a supplier and the value of your goods.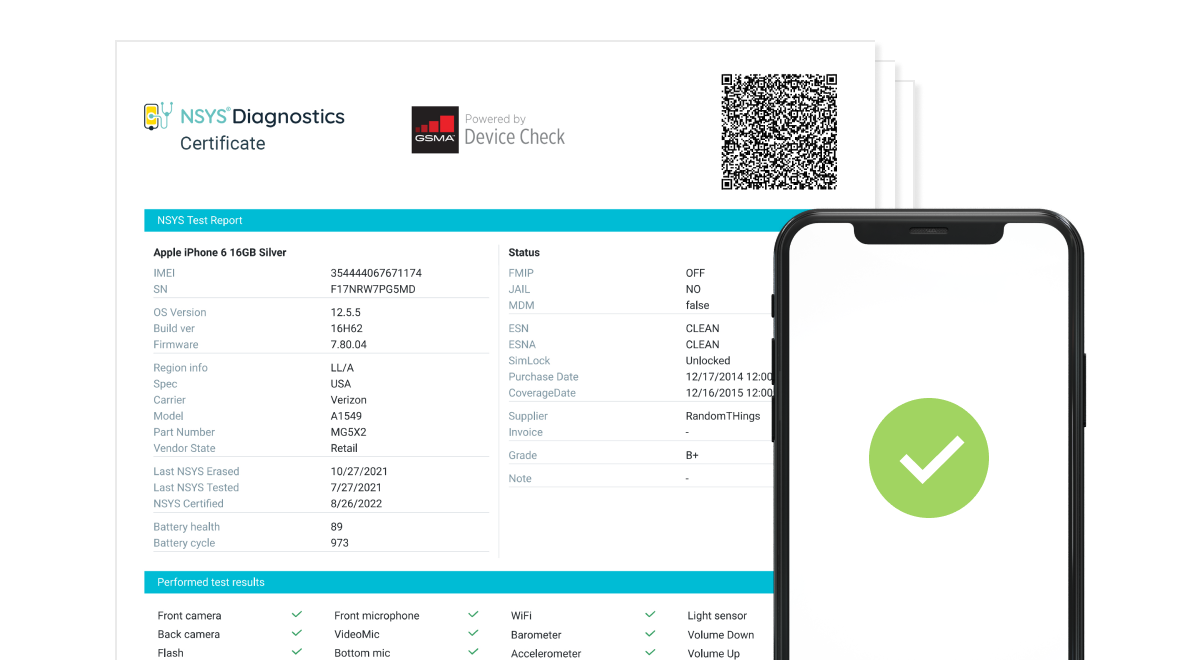 Large-scale processing requires careful planning and execution. We have given you tips for successful growth in the market with specific cases of using NSYS tools to implement each piece of advice. It remains only to put the knowledge into practice. 
Look, for example, how Serbian retailer "ProMobi" boosted processing speed by 125% and reduced operational costs by 15% with NSYS Diagnostic solution! 
Or how the German wholesaler "Phonescom" got rid of the problem with a high level of returns after adopting NSYS software!
If you are also interested in increasing profits and want to know the details of applying to any of our products or you want to get all the benefits right away, leave a request and we will find a solution just for you!