The traditional chain of China's second-hand mobile market consists of the following mediums: a client, a recycling station/retail store, a recycling company / a wholesaler
However, nowadays, due to the fact of switching to online trade, the number of participants has begun to increase drastically. That has led to all the fierce competition among them, which has propelled a more dynamic development.There are some drivers that are stimulating the development of the mobile market in China, especially in Guangdong, Shenzhen and Hong Kong.
Drivers of the used phones market growth
China is entering a new stage of a more widespread acceptance of the used phones, as the economy is gradually slowing down. So far as the overall income is decreasing, that influences the purchasing power and the demand for the new phones.
With the advent of 5G technology, China's leading phone manufacturers, including Oppo, Huawei etc. announced new models coming out soon. So now the consumers face another problem: how to keep up with the trends and don't go broke trying to buy a brand-new 5G phone. As a result, consumers begin to flood the second-hand phone market with 4G support devices.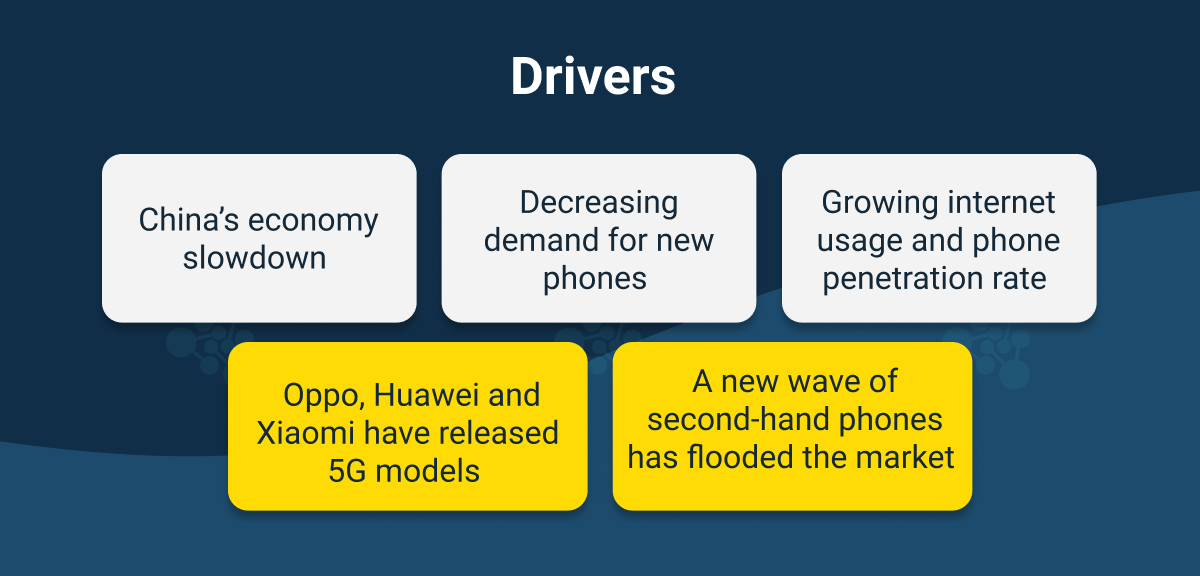 In recent years, China has developed the largest broadband user base in the world, with the majority of users accessing the internet through mobile devices. That includes both video streaming and online gaming.
CNNIC statistics indicate the number of active internet users in China has reached over 8.47 hundred million. According to even the modest estimates, China's mobile games market brought a revenue of 230.8 billion Yuan in 2019, and the market is still growing.
The growth of the mobile industry in China has been one of the major driving forces behind the development of the mobile games industry, and vice versa. As the hardware requirements of mobile games are increasing, people are more inclined to buy a used but cheap phone dedicated solely to mobile gaming. Such phones could be easily disposed of once they have been used up, all that and more also contributed to the growth of the used mobile phones market.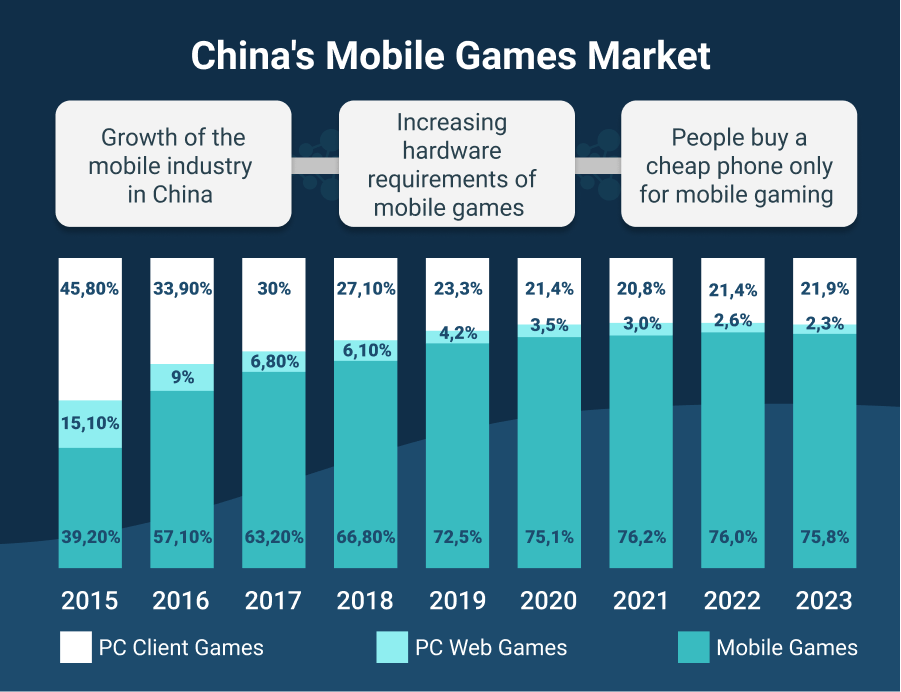 How to trade in the Chinese market?
Despite the rise of online used phone trading on China's used smartphone market, up until the last several years offline transactions had played a prominent role on the market, even though they hadn't been transparent in terms of pricing and quality control.
Online trading of used phones offers a number of advantages, e.g. a wider variety of goods for customers, better pricing for suppliers due to reduced costs (you don't have to hire staff and rent a place, all is done remotely), and an extended warranty period for repaired/used phones.
According to the data provided by 36Kr (36Kr is a China-based publishing and data company focused on the 'new economy') and Zhuanzhuan (one of the biggest online trading platforms for used and refurbished phones in China) in 2019, the biggest chunk of this China used phone market's deals is occupied by C2C trade.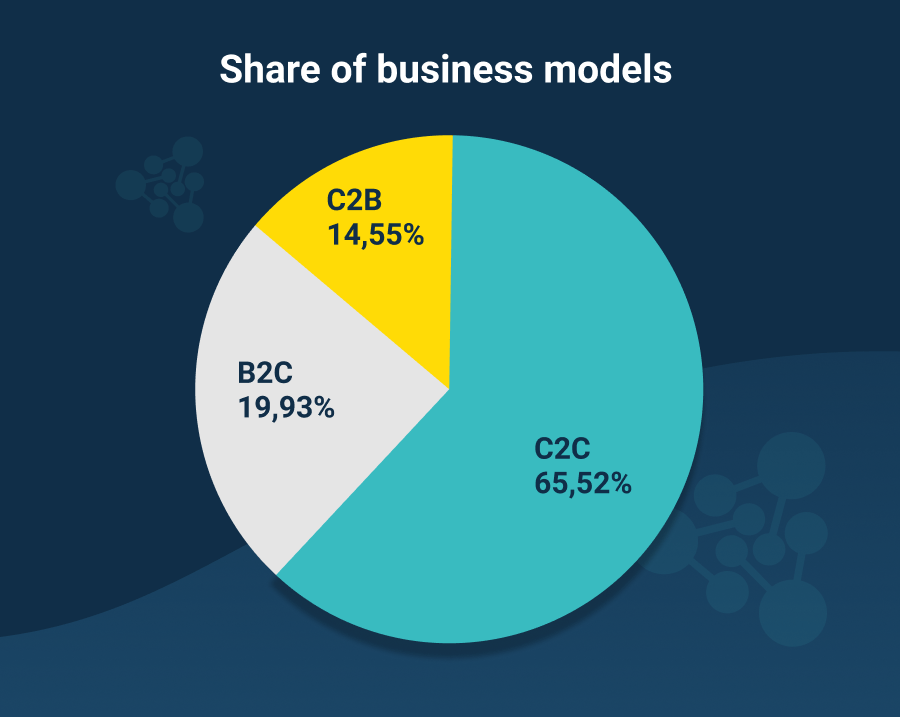 Chinese marketplaces
The report also highlights two main offline platforms in China – Zhongguancun electronics market and Huaqiangbei electronics market, the so-called "China's Silicon Valley". Those have been the biggest and most renowned offline markets of electronic products in China for over 30 years.
However, since the mid-2000s, when online trading of electronic goods in China started with Taobao, and another biggest online competitor Jingdong received its first big investment, these offline markets suffered from inability to adapt to the changing circumstances, and their business models have been heavily outdated since.
The articles referred to them as lagging behind, and hindering the shift to a more robust development. Cases with fake electronics built a bad reputation for them, so that customers' trust had been lost completely. As a result, according to recent news, Zhongguancun and Huaqiangbei were closed in October and November. On the other hand, online trading platforms have been steadily gaining ground ever since their launch in the mid-2000s.
The biggest online platforms in China
Now, let's take a closer look at the biggest online platforms in China.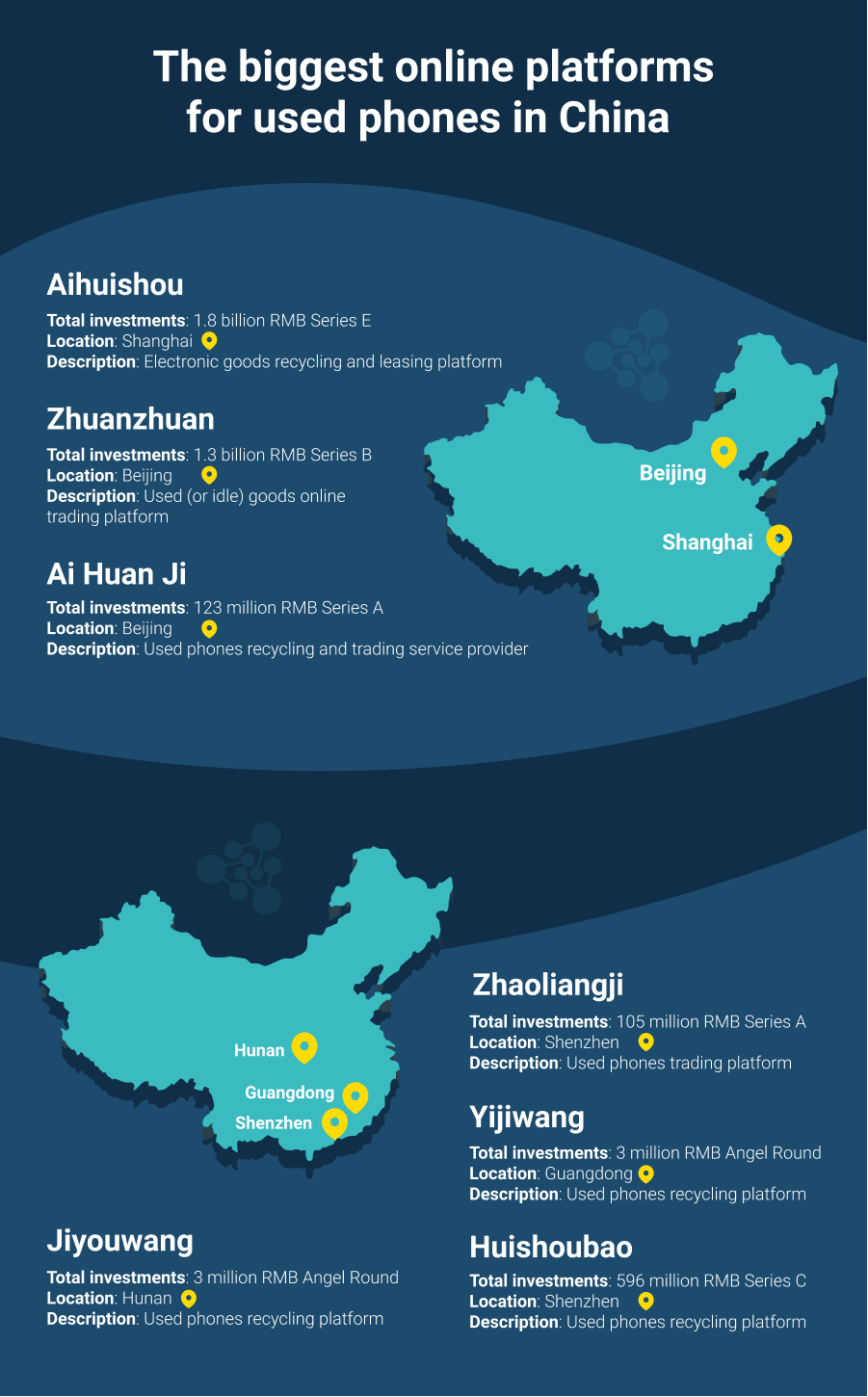 Zhuanzhuan (invested jointly by 58tongcheng and Tencent, China's media giants) is a C2B2C trading platform, provides outstanding quality checks, that increases the efficiency of transactions, and builds trust-based relationships between customers and sellers.

Zhuanzhuan is the leading example of the C2B2C model. Due to the impact of COVID-2019, the platform has suffered from insufficient supplies. Since then, the company decided to cut the expenses, and put forward measures to help small and medium businesses to survive.

Zhaoliangji deals directly with the manufacturers and suppliers to obtain goods, then sells those goods and provides shipping services to its customers.

Aihuishou (invested by Huawei) is an online recycling platform that provides door-to-door and shipping services, cooperates directly with the manufacturers, and developed a closed cycle within its stations that accomplishes both buying and recycling services. Also, it has established offline recycling stations. For C2B representative Aihuishou, the main challenge comes from within, from the operational costs of its 600 offline stores and recycling stations. During the pandemic, China has introduced severe restrictions on the movement of the population, so its offline stores have suffered a severe blow. As a result, because Aihuishou business relies heavily on offline stores, it adopted salary cuts and the reduction of staff methods.

Huishoubao is an online recycling and shipping service provider, provides mobile phones recycling and data transfer services. Its services include used phones sales, leasing, repairs, trade-in, and other.
All of the above-mentioned online platforms rely heavily on quality check, because trustworthy relationships between suppliers and customers are built upon an unbiased and thorough QC.
That is especially true in online trading, where the customer has to decide whether he agrees to buy the phone for the price by the supplier, and make his decision based on the information at his disposal. If the information does not reflect the current state of the phone correctly, the customer will have to question the credibility of such information, as well as of the platform that provided that incorrect information.
A software diagnostic tool can be of great assistance in building such relationships. NSYS Diagnostics solution checks devices for more than 100 possible defects, combining the most effective automated and semi-assisted tests to provide the most comprehensive test results. The effectiveness of NSYS solutions is recognized by companies in more than 53 countries worldwide, including our partners located in China.
NSYS solution is not simply a diagnostic tool. It's rather a complex system designed to meet the current business needs. NSYS products create one unified ecosystem perfectly adapted for businesses operating with mobile phones. NSYS products meet all fundamental and more sophisticated business demands, and help to optimise business processes.
Start streamlining your business with an advanced diagnostic solution by requesting a demo today.