Vadim (COO of NSYS Group - 10 years of experience in trading mobile phones):
The new phones market is simpler, more regulated and has been studied for a long time. Trading used devices is a bit complicated due to the increased risks and operations costs. But these risks change into increased rewards and growth prospects as the market continues to evolve. Fortunately, some of these operational complexities can be addressed with IT solutions.
Grigory (CEO of NSYS Group - 15 years of experience in mobile phone trading):
The only good business is the one that allows you to feel stability and that brings income. The ideal business model is when you trade (buy, sell) phones from and to individuals. Since you do not depend on the market conditions. Also, by increasing the quality of the product, you can increase its value and customers trust. This plays a huge role in the used device market. Product quality can be improved through automated buyback solutions and testing certificates when selling the product.
Competition between manufacturers and increased consumer demand directly affect the development of the mobile phone market. According to our internal data, the growth in the volume of mobile devices sold by one of our clients in Q3 in comparison to Q2 was 283%. 2021 is still the best time to start a phone company that sells and trades-in used phones.
One more reason is that cell phone owners often buy additional phones for their family members or upgrade their own devices. They also like to change phones to get more features and functions. Knowing how to sell used smartphones for profit can be a lucrative business.
Whether you are looking to start or improve the management of a mobile phone business, you need expert information and insights.
What are the current trends in the refurbished smartphone market?
- The growing popularity of online platforms for used and refurbished smartphones is expected to drive market demand. Popular sites like Amazon and Backmarket also offer wide opportunities to trade refurbished smartphones.
- Verizon certifies used devices and sells refurbished Samsung phones. A carrier-certified purchase gives the customer some security, for example, Verizon offers a 90-day warranty period.
In your case, you can easily get the same certification with NSYS. Our certified reports can increase the resale value of phones and build trust between you and your partners.
- Best Buy sells refurbished used phones and new phones from various companies at discounts ranging from 10 to 30%. These types of trade are the most common. The reason is that you can buy devices that have just been purchased, opened and returned, but have not even been used. And the price immediately drops, which is better for your business
- Frequency of usage of the trade-in and buyback programs grows. While the pandemic hit many companies around the world in Q2 2020, the aftermarket continues to be resilient and full of business opportunities. The gradual growth of the trade-in is one of the most striking trends of 2021.
How do I know which mobile phones I should sell and buy?
When choosing which phones to sell in the first place, it is important to analyze the market and monitor consumer demand.
In our digest on trade-in and buyback market trends, we have revealed the most popular models of iOS and Android phones for trade-in:
iPhone X
Samsung Galaxy S9
Download the digest to find out more insights about the trade-in and buyback market.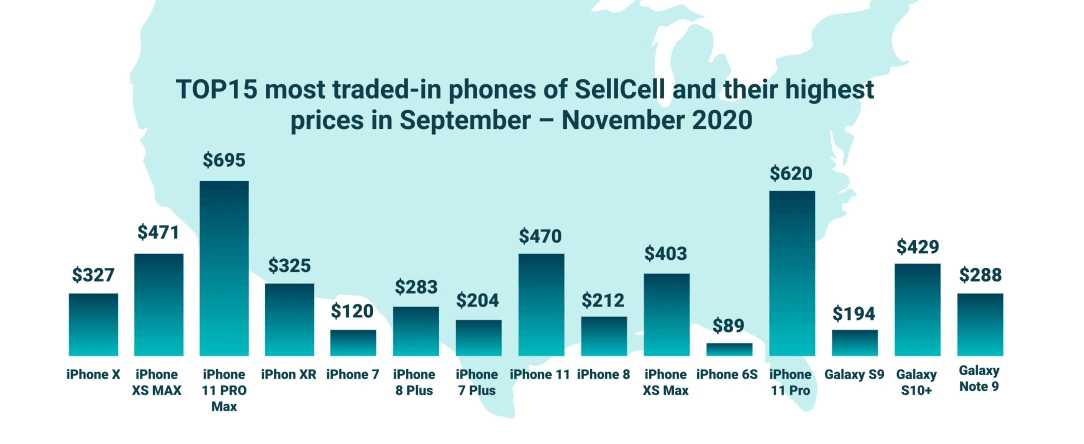 Moreover, it is worth paying attention to business indicators and choosing phone models for purchase in accordance with the payback indicators.
As practice shows, sellers of used phones can get more profit from more expensive grade A and B phones. Because if you buy a defective phone for $50, you sell it for $100. A 100% margin is great in this case. But actually, you can't do this. You will have to spend at least $40 to repair the defects. Thus, instead of 100% profit, your product will only bring you $10 or 10%.
Why should I buy unlocked cell phones?
A locked cell phone is a phone that is sold by a specific mobile carrier. It cannot work with another mobile network unless the carrier unlocks the device. For example, if a previous owner of an iPhone was a Verizon client. The locked phone has a program code that prevents it from being used on another mobile carrier. So the value of such a device became so low that you cant sell it at a proper price.
You can easily avoid such problems and save your money with NSYS Diagnostics IMEI check. Get all the data about the state of the device in a second. If the system shows that the phone is unlocked, it is not tied to a mobile carrier, and the new owner will choose any carrier.
What should I watch out for when I buy cell phones wholesale?
One of the most important things is to be sure of the reliability of suppliers who will fulfill orders on time with the phones you ordered. Finding the right wholesale smartphone supplier will require a lot of time for researching major phone defects, grades, and price generation.
Mobile phone diagnostics and common defects
It is especially important to check batches of phones by yourself. We have analyzed our clients' statistics to share the data on the most common phone defects.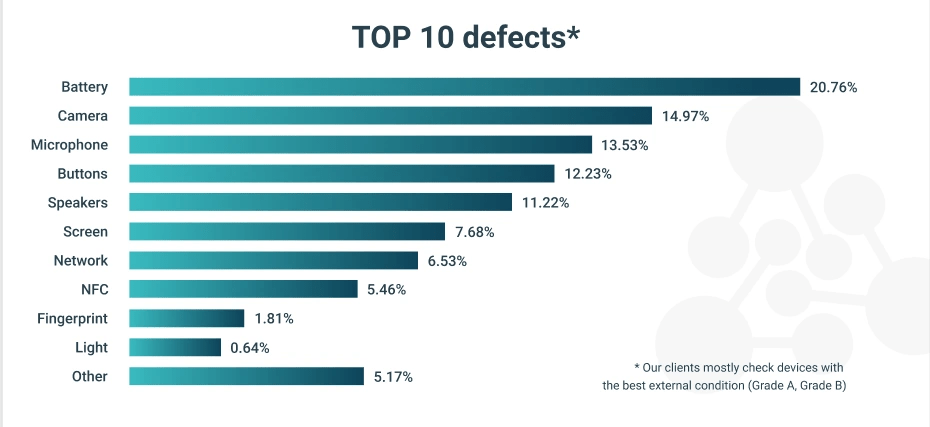 Even if you are aware of the main defects of phones, it will take some time to check each one. Moreover, not all defects can be checked manually and without disassembling the phone. For example, the originality of a phone screen or a battery.
That's why phone diagnostics should be as accurate as possible. Before the goods are shipped from the warehouse, each unit must be checked, no matter how reliable the supplier is. As a result of the diagnostics, you can promptly separate low-quality devices from high-quality ones and submit files for a refund.
Used phones grading system
Another pitfall you can face is phone grading. Since the grading systems may differ from supplier to supplier, there may be some misconceptions about the actual state of phones. As a result of a wrong grade, you could overpay for a "Grade B" phone with a broken screen and lose money due to a mistake. If you buy a batch with mismatching grades, you will have to spend money repairing phones and offering a lower selling price to customers.
To avoid such issues some companies determine grades by simply looking at them, some use checklists and manuals to measure the size and number of scratches.
If you don't have time and experienced techs to grade each phone from a batch, you can use an automated solution and grade phones accurately and at a fast pace. NSYS Autograding eliminates most human mistakes and provides consistent results. You can evaluate cosmetic conditions automatically via an AI-powered tool and all you need to start grading is a mobile phone with the app installed.
How to sell and buy used cell phones for profit
Most customers are used to buying phones in retail shops or online rather than through mobile operators and other channels. According to NSYS, 66.9% of consumers are also used to selling their devices to a trade-in or selling them to retailers.
Thus, starting your own business in the field is profitable for at least two reasons: it will be easy for you to sell through retail outlets and online channels, as well as buy used phones from individuals.

Think about how to store your stock and analyze your sales data
Every business has to manage its inventory whether it's done in spreadsheets or specialized software. Without this, there will be no understanding of how items move around the warehouse, where they are stored, and when and to whom they are sold.
With a warehouse management system you can:
Invest your cash profitably.
Detect issues in the early steps.
Decrease missed sales rate.
Reduce theft and losses in your warehouse or a store.
With our inventory management system, you can finally track the parameters that are important to your business.
Mobile phone buyback and trade-in programs
While wholesalers have been impacted by declining exchanges from mobile carriers and retailers, trade-in companies that buy directly from customers are maintaining business growth and further market opportunity.
Retailers get a huge advantage because their competitors are manufacturers and mobile carriers. In turn, competitors offer non-competitive prices, so the buyer will more likely come to you than sell his phone cheaper. More data about the mobile buyback market is shown in this article.
If you decide to start a buyback or trade-in program, we recommend you to protect yourself from endless checklists, online spreadsheets and staff errors.
Here goes NSYS Buyback, an automated solution for companies operating with trade-in and buyback programs. The solution helps to increase profit from BB/TI deals, eliminate unnecessary costs, and grow customer loyalty.
Fully customizing tests for identifying the accurate value of the devices
Trade-in value based on market prices
The cloud-based solution collects data of all deals
Built-in and simple device diagnostics process
Integration of any existing list of devices
To start a business in 2021, it is important to follow many rules, as well as research the market in order to get the most out of your sales. Thanks to automated solutions that simplify the processing chain of any mobile phone company. Arrange a demo today to find out what we can offer your business with NSYS All-in-One!