According to the report by the Chinese Academy of Information and Communication Technology (CAICT), in March, total smartphone shipments to China grew by 3.4 times, reaching 21.8 million units (representing 80% of last year's sales). Similar estimates were previously given by Xiaomi, commenting on the market state in March. Ru Jialin, an economic analyst at Xinhua News Agency, believes that the resumption of production of the majority of vendors in China has accelerated.
Due to the influence of the coronavirus, Apple was forced to close all the stores in China. But on March 13, the company reported that all 42 official stores operate again. Also, Apple returned its mobile devices to the stores with discounted prices. The company confirmed it with the resellers in order to support local demand.
Chinese companies are gradually restarting their work activity. Warehouses of transport companies are gradually filled with phones and tablets, but unfortunately they don't have time to deliver orders due to interruptions in shipments.
The 5G market is also recovering. As restrictions on movement are reduced in the country, more and more retail stores are open, which positively affects sales recovery. Shipments of smartphones with 5G rose to 6.1 million units in March 2020 (in February 2020, they amounted to only 2.38 million units).
Despite the negative economic consequences of the pandemic, shipments in total for Q1 2020 amounted to 14.06 million units, which exceeds the results of Q1 2019, when they were 13.8 million units. These numbers give a general idea of ​​the market recovery speed.
Consequently, the decreased purchasing power of the majority of the population and the desire to buy an advanced 5G smartphone leads to the fact that more than 40% of consumers said they are ready to purchase used and refurbished phones and tablets. Due to the supply reduction of new phones in the market, used devices are becoming more and more popular.
The market for used phones and tablets is also starting to recover after the downfall in February. Customers still need to upgrade their devices and now more people prefer to buy refurbished devices over new ones. This is confirmed by the reports of the leading global liquidation platform B-Stock. Prices for A / B graded Apple and Samsung smartphones are gradually returning to January figures.
The average monthly depreciation among the best Apple and Samsung smartphones in the first quarter was 2.5%. This corresponds to last year's level.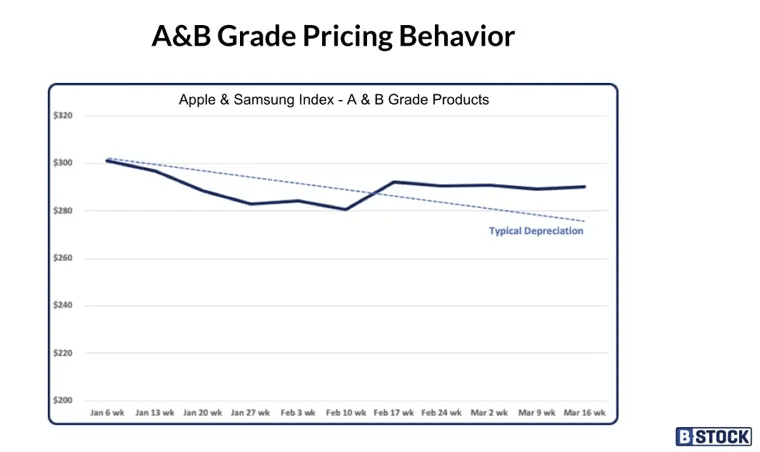 According to our European online retail clients, the demand for used and refurbished devices is gradually increasing. This demand could be triggered by the transfer of many employees to work remotely. Consumers don't want to buy the latest phone models just to work at home, that's why they prefer refurbished and pre-owned gadgets for a reasonable price and in good condition.
Regarding Apple devices, the average difference in prices between used and restored A - D graded smartphones was 12.3%, which is determined by falling prices for D-grade phones. The best-selling models on the secondary mobile market over the past 3 months are iPhone 8 and iPhone 8 plus.
For Samsung smartphones, the difference was 23.4%. The larger gap compared to Apple can be explained by higher repair price, maintenance, and supply chain costs (less reliable than Apple). The most popular Samsung models are Galaxy S10 + and Galaxy Note 9.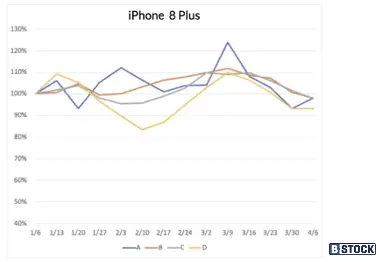 According to the recent B-Stock survey, 27% of entrepreneurs who work with used and refurbished phones and tablets haven't felt the impact of COVID-19 on their business so far. Companies that worked under the restrictions have switched to online trading now. That was influenced by two main factors: firstly, customer behavior changes, everyone prefers to shop online now, secondly, entrepreneurs reduced the costs for rents and employees salaries.
Find out how to configure remote diagnostics in this article.
Are you an offline retailer? Today is a great opportunity to start running your online store on eBay, Amazon, Back Market. NSYS Tools will let you to serve your customers online and provide devices diagnostic remotely.
Did you operate with pre-owned mobiles and tablets? NSYS Tools is the solution that can advance your business through fast and effective diagnostics.
For more information about NSYS Tools visit here or arrange a free demonstration with our multilingual specialists.
Boost your business with NSYS Tools!