USB debugging is a tool that IT professionals use when developing and configuring devices based on the Android operating system. It is performed by connecting a portable unit to a computer for troubleshooting and fixing bugs.
This procedure is required for a variety of purposes: to execute commands in the ADB shell (firmware, custom recovery, screen recording), or for data recovery. However, enabling can be a daunting task, especially for novice technicians. In this article, we'll provide instructions on how to ensure a smooth debugging experience to recover erased data, get root rights, or make a backup.
1. Before performing USB Debugging, it is necessary to enable Developer Options first. Go to Settings, choose About Phone, and tap on the Build Number 7 times.
2. Then return to the main settings screen. In the Developer Options, you need the USB Debugging section. Confirm with the Ok button.
3. After enabling USB debugging, connect your gadget to your computer using a USB cable. Your computer will recognize the new device and install all the necessary drivers on its own.
4. Now, you can start debugging. You can use special tools such as the Android Debug Bridge (ADB). They allow you to transfer files, view logs directly from your PC, and execute other necessary commands.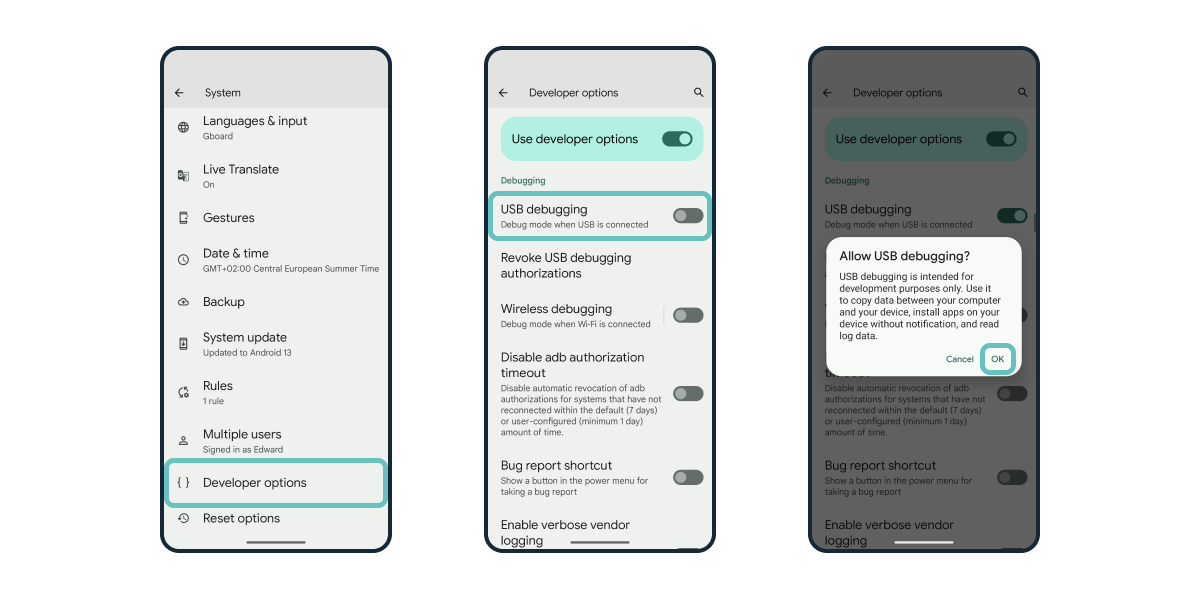 Quick Troubleshooting Android Devices with NSYS tools
Activating and enabling USB debugging can sometimes take longer than the actual diagnostic when testing mobiles with a cable, which poses a significant challenge for businesses. This is where NSYS comes to the rescue. 
NSYS Diagnostics solution has a feature of automated Android device activation via an NFC tag. This way USB Debugging is automatically enabled! You only need a few seconds to create an NFC tag and all gadgets with an NFC chip will be activated. No USB hubs or cables. Just make a tag once and use it all the time!
With activation, the Wi-Fi profile and the NSYS Test app are already installed and set up. You can skip all complicated steps and quickly move on to the diagnostic, saving time and money. The average time for a full check is up to 2-3 minutes, which greatly increases the QC  department's productivity. 
NSYS Diagnostics adapts to every single mobile item by checking all aspects of them. You can customize all tests for each smartphone category according to unique business requirements. Testing is automated and easy to perform, so even a novice operator can accurately and quickly detect all hardware defects.
Whether you are a small company or a large enterprise, NSYS software solutions can help you to get to the root of your Android issues and stay ahead of the competition. Contact us today to learn more about our products and how you can benefit from workflow automation!