When a phone goes missing or gets stolen that's a headache for its owner. But this poses an even bigger challenge for companies buying back used mobile devices as they regularly have to struggle with attempts to sell lost or stolen devices to them. How often can it happen? Just imagine: for example, in Germany, 4 of 10 phone owners stated in a survey conducted by Bitkom in 2021 that they have once lost their device or got it stolen.
As buyback providers are at a high risk of receiving such devices we have decided to dive deeper into this topic. Here are the questions that we will try to answer in this article: What happens if a retailer sells stolen phones? What do you need to pay attention to when checking phones if you want to stop buying stolen devices? Which options do you have for it and which one is the best? Let's find out!
My business has bought and sold a stolen phone. What's next?
If your company has bought a stolen or lost device and then you sold it to a new owner, what are the possible consequences?
First of all, it may be returned to you, accompanied by the reviews of a disappointed customer. Then you have two possible ways to get out of this situation: some companies choose to call the police, others try to figure out how to get rid of the unwanted phone. The truth is that not so many companies will be delighted to mess with a device with a questionable history, not to mention that you will hardly sell it at a good price. You may consider an option to disassemble the device and sell the spare parts or find a customer in some other region but let's be honest, all these ways are far from legal.
How to avoid such situations in the future?
There are several things you need to pay attention to before you buy a used phone from its former owner:
Phone Blacklist is a list of blacklisted IMEI numbers of devices generated by the carriers. It contains the numbers of phones which have been reported as stolen or lost.
Unpaid balance or outstanding bills
You always need to check if the serial number of a device is clean for activation before you buy a used iPhone, Samsung, or any other Android phone. When a device has a clean ESN, it means it is 100% ready to get activated with any carrier. To fulfill this requirement it must not have outstanding payments due or any sort of balance on the carrier contract relating to it.
FMIP (Find My iPhone) Activation Lock is an iOS feature that secures the device against anyone else trying to use or sell it if it's lost or stolen.
FRP (Factory Reset Protection) is a built-in security feature that was designed by Google for smartphones and tablets running Android 5.1 and later to restrict other people from using your smartphone or tablet if they forcefully perform a factory reset on the device.
SIM Lock is a function that allows phone service providers to lock a phone so it can only work in certain countries or on networks provided by a specific company. This locking function is connected to the Subscriber Identity Module (SIM) provided with the phone and ensures that the phone can only be used in a way the service provider wishes.
MDM (Mobile device management) protects the corporate sector's data through device-level policies provided by the device manufacturer or platform provider. For example, MDM allows to enable device-wide encryption and automatically lock the device or wipe the data on it if it is lost or stolen.
One more thing that you should take into account is the process of remote online buyback. If you run a website or app to buy back phones online you know how difficult it is to get a device without any unstated locks or other functional and cosmetic defects. That's why you need to find the best way to set up the testing process as accurately as possible.
How to check all necessary parameters?
Today there are possibilities on the Internet to check whether a phone is blacklisted or not. Before getting started with them, you should keep in mind that they are not free. Besides, they may lack the needed information because they do not collect data from a direct source. And of course, the evaluation process takes much time when your employees perform the tests of functionality manually. Add to it the human factor leading to mistakes, the missing opportunity to offer higher prices than your competitors do due to inaccurate evaluation, the challenges of the online evaluation of devices, and you will understand that having a software solution might solve all your problems.
NSYS Buyback is a powerful management system that allows you to control all working processes of a buyback business under one roof. It is designed to automate every aspect of a buyback routine: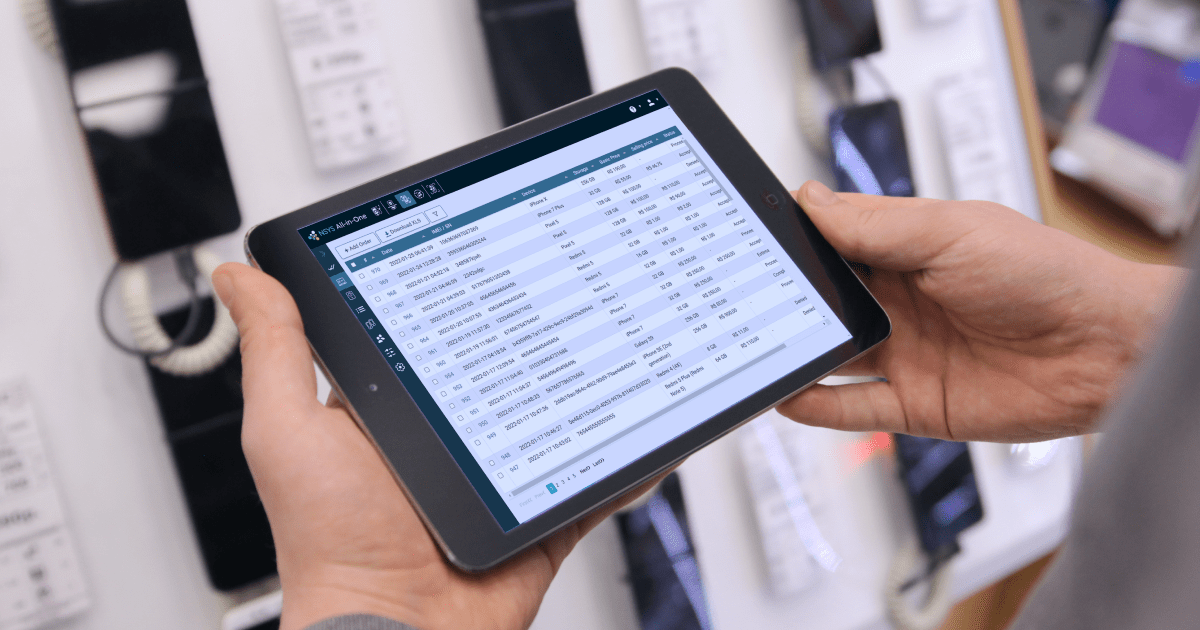 Create customized questionnaires to buy back phones in proper condition directly through your website.
Run comprehensive tests of the phone functionality using your white-labeled app to know exactly what you are buying.
Protect yourself from buying lost and stolen phones thanks to in-built IMEI checks.
Keep all buyback deals in one database: no item losses, no spreadsheets.
Interested in trying NSYS Buyback out? Send us your request! Our representative will contact you to schedule a free demo of our software solution.