The secondary market can boast a never-ceasing increase in the number of participants. All kinds of suppliers, buyers, and resellers are eager to join the competition. However, there are certain rules regarding used device certification. Whatever your business is in this industry, your main concern is to give your partner the best deal. As much as to make the most profit out of each transaction. Everyone needs a win-win business strategy to stay on top.
However, how is one supposed to determine whether the suggested batch of phones from the supplier can be traded profitably afterward? In order to avoid unnecessary confusion and ungainly disputes about returns with suppliers, almost every business on the market has to carry out pre-purchase functionality diagnostics.
Or vice versa, while being a supplier yourself, you would like to check your stock before shipping it to your customers, because you would like to build a strong foundation for long-term relationships, and you wouldn't want to sell uncertified stock.
What is mobile phone certification?
Before the goods are shipped from the warehouse, each unit must be checked. With manual testing, it is not easy to ensure the objectivity and thoroughness of the test results. The productivity and results of your employees are subjective to their experience and diligence. Even the most diligent technician can make mistakes, and mistakes mean profit loss.
When performing manual diagnostics, it is impossible to prove the functionality of the phone, besides just checking it with the customer. Therefore, companies that have already switched to an automated solution for phone diagnostics, for example, to NSYS Diagnostics, enjoy a great advantage.
Automated solutions are good not only because they accurately check all device functions, but also save time and money. Moreover, according to the results of diagnostics, each tested phone receives a certified report.
Mobile phone certification has the purpose of bringing together a phone's quality assessment and unbiased and tangible proof that the mobile phone has been checked. NSYS Diagnostics test reports have been providing undisputable data about the devices' current condition to our clients throughout the world. 


What do you get with a certification?
"NSYS Certified" has become a renowned quality mark across the whole world. Diagnostic reports and labels which bear this mark will increase the trading value and general acceptance of the associated stock.
Check and provide any phone parameters:
Diagnostic results
IMEI/SN of the device
Model number
FMIP/FRP check results
Jailbreak/Root check results
Designated region's information
Battery status information 
ESN(A), Simlock
Date stamp
Use certified reports in any format convenient for you: both PDF reports or customizable labels.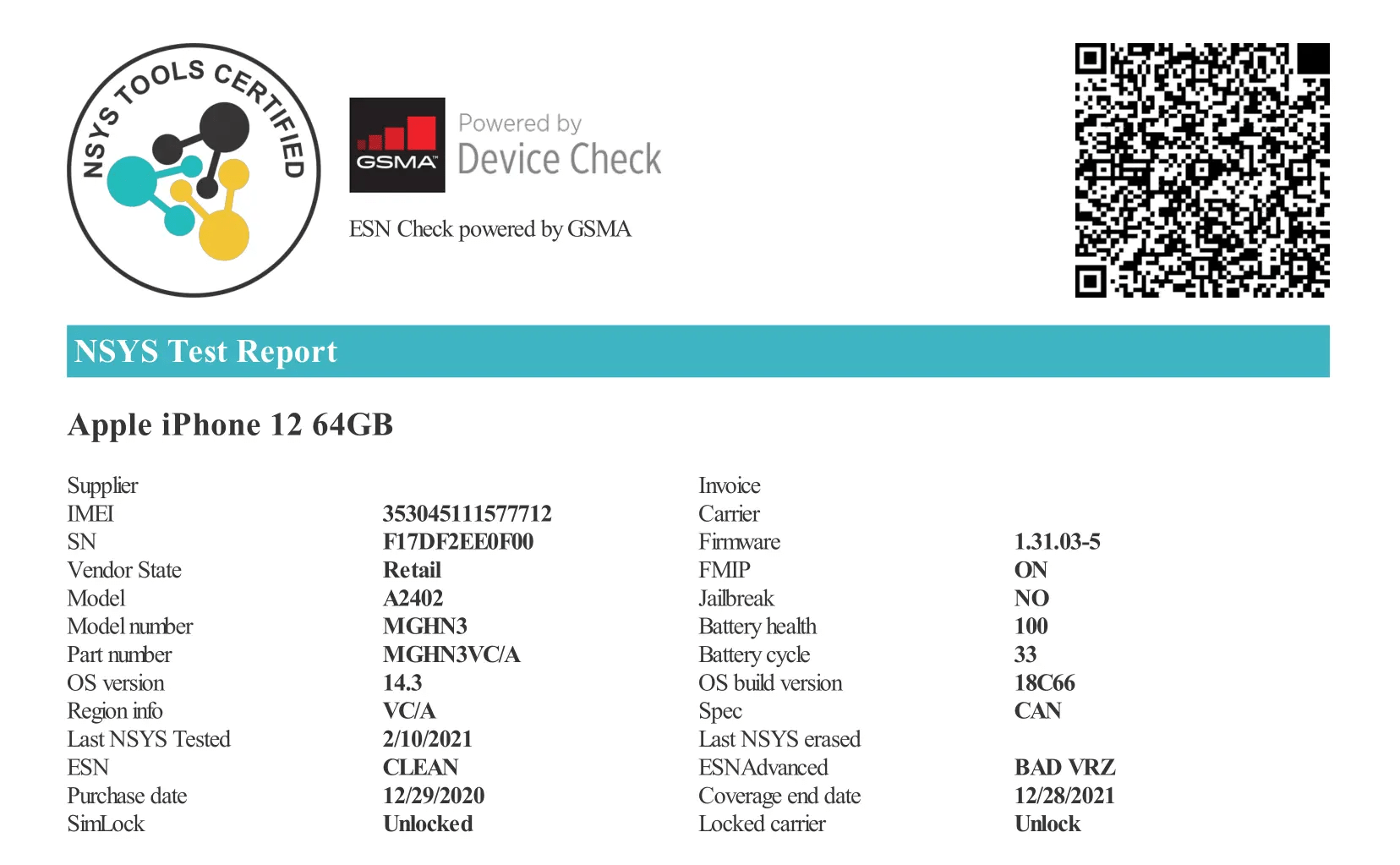 NSYS Certified reports includes:
NSYS Diagnostics report contains unbiased information about the device's current state and condition. Diagnostic results contain the following information about the device's defects, including but not limited to:
Software defects. NSYS software checks whether the operating system (iOS or Android) has been compromised, by providing Jailbreak, MDM, Knox status report.
Hardware defects. NSYS software checks for possible inconsistencies in the device's Audio hardware, whether Touchscreen, sensors, and buttons are responsive enough. Whether the phone's battery behaves abnormally under stress, and whether it's durable.
Phone internal integrity. NSYS can detect OEM phone parts from third-party parts, saving you the trouble of disassembling the device. Check an LCD screen, Touch ID button, both cameras, battery, and motherboard.
Current ownership information. Detect mobile phones with accounts from previous owners and isolate such devices before they are shipped to your customers.
Device status report. NSYS is able to detect if a phone has been reported as stolen, or has been locked to a specific carrier in a certain location, or whether its warranty has expired.
NSYS certification assures 100% transparency of your business deals. Arrange a demo today.
To get more information about smartphone diagnostics, read our article on top‑5 mobile phone diagnostics tests.