Everyone has a mobile phone. On the modern market, there are various models ranging from phones priced under $300 to the latest Apple or Samsung devices priced in excess of $1000. We are used to manufacturers releasing new models every year, but the situation has changed recently. Today a new trend is emerging in the market: as sales of new gadgets decline, the market for used devices, that operate on the technical side and are ready for resale after full diagnostics and erasing the previous owner's data, is growing. Such developments provide potential growth opportunities for the used device market in the years ahead. To understand how to move forward and what this trend means for the market in general, consider what is happening in the second-hand device industry.
Opportunities for used mobile market 
According to Persistence Marketing Research (PMR),  the global used phone market will reach approximately $39 billion in revenue in 2025, up from nearly $20 billion in 2017. The last PMR report estimates that the global market for refurbished and used phones will grow 8.9% CAGR from 2017 to 2025. 
"...sales of refurbished and used phones in company-owned and consumer-owned markets will be 277 [million] units by the end of 2025."
We need to pay attention to it. Some research companies are even more optimistic about growth, including Bertrand Grau, a technology analyst at Deloitte, who predicts that used phone sales will grow at a 20% annual rate from 2015 to 2022.
Longer smartphone lifecycle.
Time has passed when consumers felt the need to buy a new phone every year or two. Today owners are slowly updating their devices. It leads to a longer life cycle, as well as to a lower cost of ownership over the cost of the life of the phone when buying a used one. According to NPD Connected Intelligence, the average smartphone upgrade cycle in the U.S. is 32 months. Deloitte predicts that at least 10% of smartphones purchased in 2016 will still be used by second or third owners in 2022. Half of those devices will be traded in for upgrades and the other half sold on the private market, according to their research.
Price drives behavior.
The affordability of used and refurbished devices, especially when compared to the rising cost of new devices, is supporting the growth of the second-hand device market. Now there is a gap in the market that used phones can fill. We've seen the market options for customers shift to almost eradicate the middle price band of phones. Ryan Reith, program vice president at IDC, compares today's U.S. cell phone market to the automobile market, where most consumers bought either Mercedes or Kia, and brands like Honda essentially did not even exist.
In part, consumers are driven by a desire to conserve the environment, i.e. to reduce waste in the form of unneeded gadgets. Companies such as the EPA (Environmental Protection Agency), RLA (Registration & Licensing Authority) and even CTIA (Certified Threat Intelligence Analyst), with their recent efforts to standardize cosmetic grading, are keen to the recycling and more efficient use of mobile technology. As the drive for eco-friendly practices expands, we will see more and more customers opt for second-hand phones.
No technological breakthrough.
We have seen fewer significant technological breakthroughs lately, the latest being the iPhone X's augmented reality feature with facial recognition of its owner. But that's no surprise to anyone today. Devices last longer, and the increased lifespan means we do not have to buy new phones as often. In fact, consumers often buy more features and functions on smartphones than the latest models need, which implies that consumers can use them for longer. One possible reason that could halt the growth of the used phone market is the move to 5G technology, which will only be available on newer, more expensive models.
How to become a winner of the market.
Unfortunately, the decision to trade in or buy a used phone is not always an easy one. Before surrendering a second-hand phone, the consumer needs to delete all his data and take care of diagnostics on the device. When it comes to diagnostics, it's worth understanding that it depends not only on the operating system, but also on the device, as well as firmware versions and other features.
Android devices, for example, require a more secure aperiodic erase, which is a process of overwriting data in a random rather than static manner; while for iOS devices, a factory reset is often sufficient. However, iPhone users should be aware that they need to unlink the device from their iCloud account before handing it over. To ensure a reliable result, there are special tools and programs available to ensure that the phones are properly cleared of personal data and certified with a special document. This is one of the reasons why consumers will go to specialist companies and services with the appropriate software to surrender their devices rather than do the data deletion themselves.
NSYS provides full automatization of inventory management, mobile diagnostics, data erasure, buyback & trade-in transactions, and phone grading. NSYS All-in-One is the ecosystem of solutions covering the whole processing chain in the companies dealing with used mobile devices. Designed to increase the resale value of used phones and tablets, exceed consumer expectation and scale your business: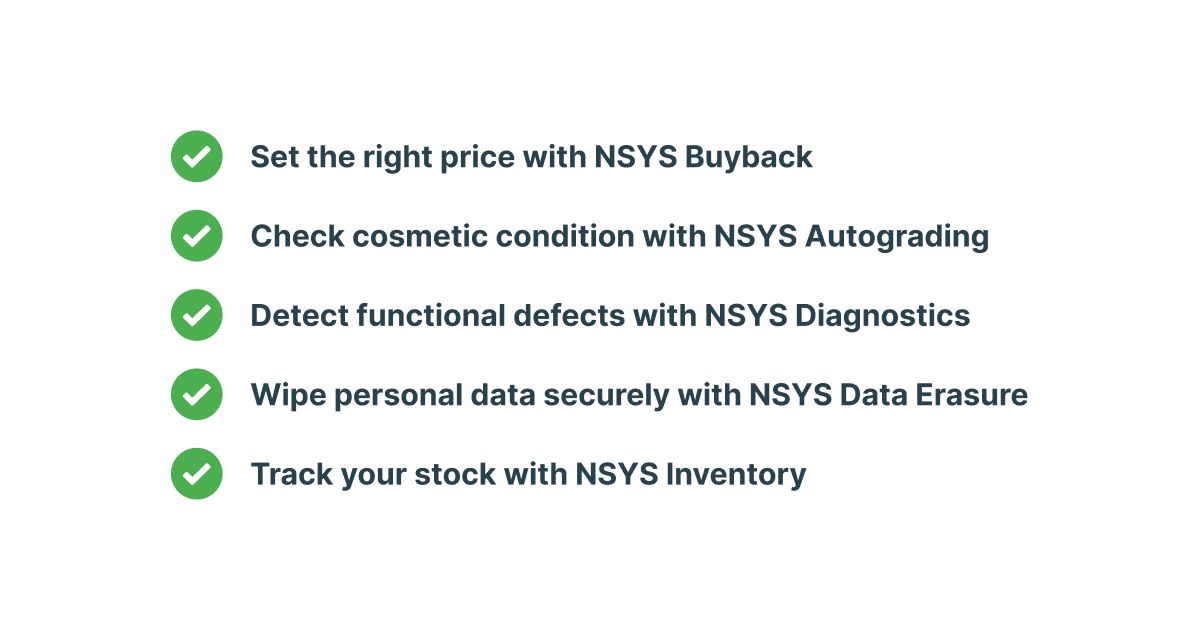 Used phones market in 2022 and beyond.
According to Deloitte, selling used and refurbished phones on the market has a number of advantages. For one, it is an attractive market for customers with small budgets. Today's market promotes the following concept: a used or refurbished premium smartphone may be more attractive than a lesser-known or unbranded device.
Given the state of the mobile market in general, 2022 is likely to be a game changer for mobile device retailers and recyclers. Understanding how the market is changing after the pandemic and crisis and how devices are performing will enable these organizations to implement better software to diagnose Android and iOS devices and make them aware of some of the major issues that affect these devices. To increase customer satisfaction, improve their numbers and ensure data privacy, companies of this industry need to ensure that problems are found and fixed and that data is securely and certifiably wiped.