If you want to buy used mobile devices at the most attractive price, you should definitely pay attention to mobile device auctions. It is there that the largest wholesale market players buy and sell.
What are auctions of used phones?
Wholesale auctions of used devices are extremely popular and widespread, especially in the US. At these auctions, you can buy anything from 50 cent trinkets to cars and houses. Auctions are held according to the classical bidding scheme, online or offline. 
There are both B2С and B2B auctions. Today we will dwell on business options in more detail as it is a great opportunity for the most profitable wholesale purchases of mobile phones. 
B2B liquidation shopping is a great way to fill shelves, but it's not the same as buying new goods in the marketplace. You should note the auction description and photos and read the product terms and conditions before trading.
Why participate in B2B mobile auctions
Firstly, as we already said, B2B auctions of used devices are a cost effective strategy in wholesale buying. As a business owner, in order to buy used phones, you can participate in both general auctions and thematic auctions where only mobile electronics are sold. When you buy at auctions in bulk, you save on logistics costs and markups for each individual device.
Businesses of all kinds can sell returned, surplus and refurbished items to a large and growing network of business buyers. You can post inventory of any category, condition or batch size on the marketplace. So, if you need a B2B channel to turn your surplus into cash quickly, or you need a platform to grow your business — online mobile auctions are a great option.
If you buy devices for use of individual parts as raw materials or further processing and you don't care about the cosmetic and functional condition of the devices you buy, then wholesale auctions are your one hundred percent hit. Vendors there often don't want to spend their time checking devices and give them away in bags at very low prices. In this case, you will not be able to choose which models you buy or what grade they are, most likely you will not even see the composition of your lot before buying. You may come across both treasure and rubbish. You are literally buying a pig in a poke, but the price will be really low.
If you still want to resell devices in the future, then you need to be more careful with auctions. Devices purchased in this way must be carefully checked after purchase and ensure that all data is securely deleted.
Responsible Recycling
Now that we have dealt with the features and benefits of participating in mobile auctions, let's look at the conditions necessary for participation. Most importantly, if you want to buy devices, you need to carry R2 certifications. 
The Responsible Recycling (R2) standard provides a common set of processes, safety measures and documentation requirements for businesses involved in the repair and recycling of used electronics. You need to have this certificate because, as we mentioned in the auction, you can sometimes buy an item that cannot be repaired or restored. Such goods must be disposed of in accordance with the standards for the disposal of electronic waste.
R2 certificates are not so easy to get. They are usually available from large recycling and disposal companies. These companies are frequent guests of wholesale mobile auctions.
Technology of participation in the auction
If your company is R2 certified and you want to participate in a mobile auction, the easiest way to do this is online. Let's analyze the technology of participation on the example of the B-stock platform — the most popular online auction site. The participation algorithm is quite simple:
1. Sign up
Getting started is the easiest point! First you need to Create your account and fill in the basic information about your company. It usually includes the business name, warehouse location, and payment details.
2. Read the required information
After creating an account, study the organizational details. Most often, there are consultants on the marketplace who will help you figure out on a listing strategy including: lotting, start price, descriptions condition codes, and photo best practices.
3. Start bidding
Now that your strategy is in place, start listing! The marketplace is auction based: the highest bidder wins.
4. Shipment
Shipping is the responsibility of either the buyer or seller. For buyer arranged: you'll provide pick up and contact information. For seller arranged: a flat-rate fee will be applied to the buyer's order.
5. Get paid
The winning buyer will transfer payment to B-Stock. Once the shipment has been arranged and the order is successfully delivered, you will be paid via electronic deposit.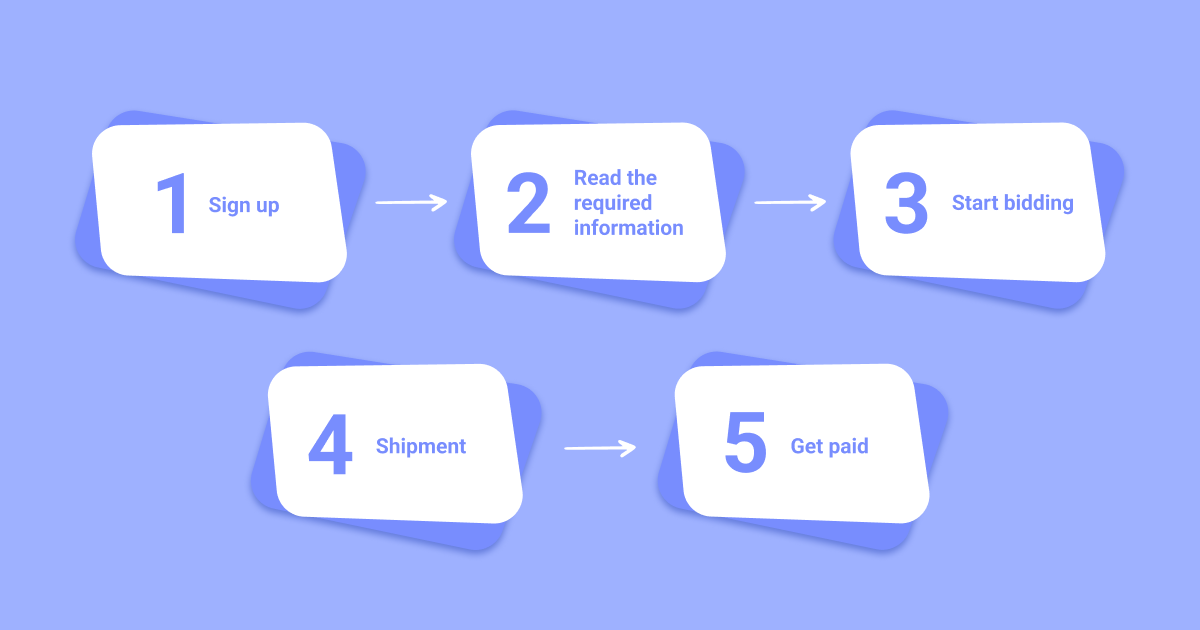 NSYS Data Erasure
One of the most important points to pay attention to when buying wholesale mobile devices is security. Even buying a device of poor quality is not as scary as losing traces of your customers' personal data on the devices you sell.
With NSYS Data Erasure you can erase data from up to 60 devices simultaneously when processing a batch of mobile phones and get a certificate for each device to confirm that the data has been erased in accordance with international standards.
Make sure to protect yourself and your customers with NSYS Data Erasure!