We present you with several important updates that make our buyback solutions even more multifunctional and affordable.
Complex diagnostics in widget
NSYS Buyback widget is a white-label website script for comfortable device cost evaluation from home. Previously, it was only an additional buyback channel that didn't have complex diagnostic functionality. From now on the full set of diagnostic tests is available!
There are more than 60 tests that can be performed using the Widget:
IMEI check
Sensors (FaceID, TouchID, gyroscope, proximity, compass, barometer etc) tests
Buttons tests
LCD pixels tests
Touchscreen, 3D touch, multitouch tests
Phone battery tests
Audio tests
Camera test etc.
Now ALL buyback products have full technical functionality!
The process goes as follows: scan the QR code, download the application, enter the pin code from the widget, and conduct all tests without any restriction. All the results are automatically sent to the widget, and the final price is calculated based on test results. You can precisely define how one or another technical defect can affect the price. The test results for each order can be accessed in the Administrator's panel.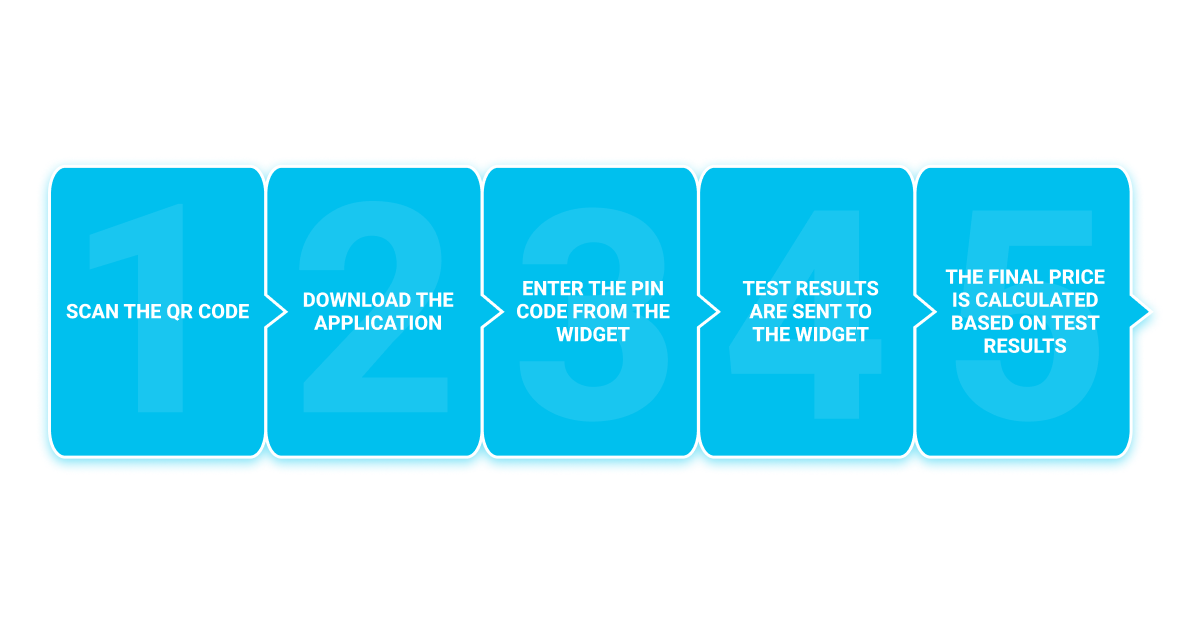 Now your clients can be guaranteed a price for their devices directly from home. This greatly reduces the distrust of online buyback processes. And when they go to your store/warehouse -where you will be definitely invited to repeat the test- to sell you their phone, then your second test will be free of charge since this device had been tested before through Widget and its IMEI was specified.
Standard NSYS Buyback App
Previously, NSYS only provided branded, fully customized buyback apps designed specifically to meet the needs of your specific business. Great item, but might be costly due to complex development. Normally, only big market players really need a fully white-labeled solution with their own mobile application in Apple App Store and Google Play Market.
Now the opportunity to benefit from automating the buying process will be affordable to almost any, even the smallest companies. We are releasing the new NSYS Buyback App with an affordable price. The application will work under the NSYS Group brand, but in the near future there will be opportunities for partial customization and displaying information about the client.
Each company will be able to use the application with an exclusive pin code. If the company has several stores, each one will have its own pin code, in order to easily determine from which store and user the order was received.
Leave a request for a demo to find out the details of the changes, the implementation cost and the detailed conditions.