As you may already know, earlier this year our solutions have evolved into a genuine ecosystem that covers the whole processing chain of the mobile phone businesses. Today, we are happy to share with you the first big update in our company's history concerning all parts of the NSYS All-in-One ecosystem! Take a closer look at our list of the most prominent updates.
NSYS Diagnostics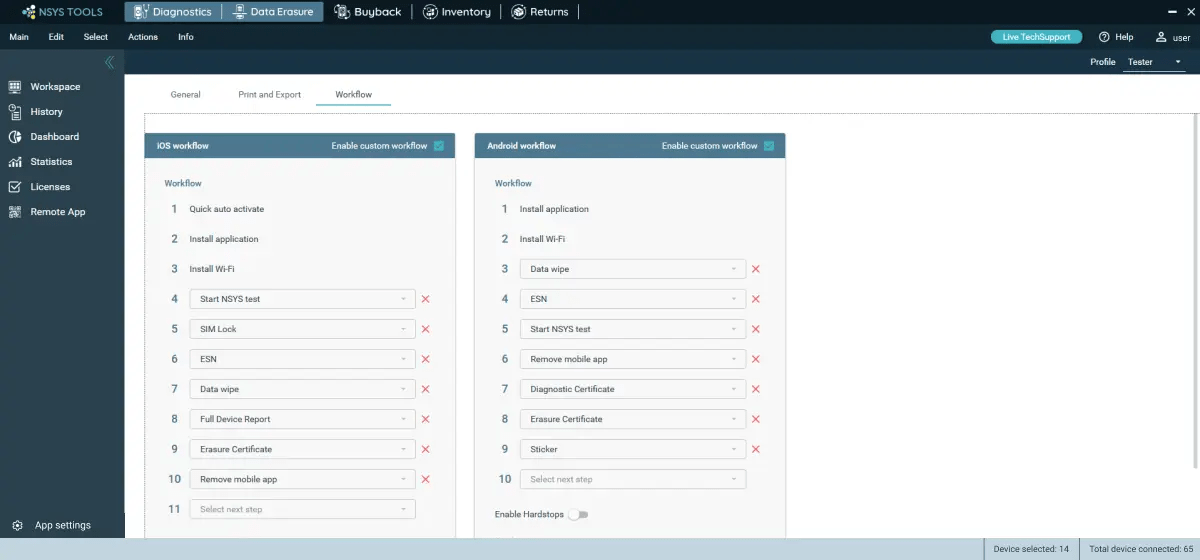 Set your own rules
This time our development team has added several major improvements to the workflow. From now on you can automate and standardize it by presetting the order of all the steps including automatic printing of stickers and/or certificates, data erasure, and shutting down the phone.
A pig in a poke shall not pass!
Now you can find the devices with non-original parts in the History section. If your supplier has sent you some phones having non-OEM batteries or screens by mistake, just filter and select those from the list and download a report for your supplier in a few clicks!
NSYS Buyback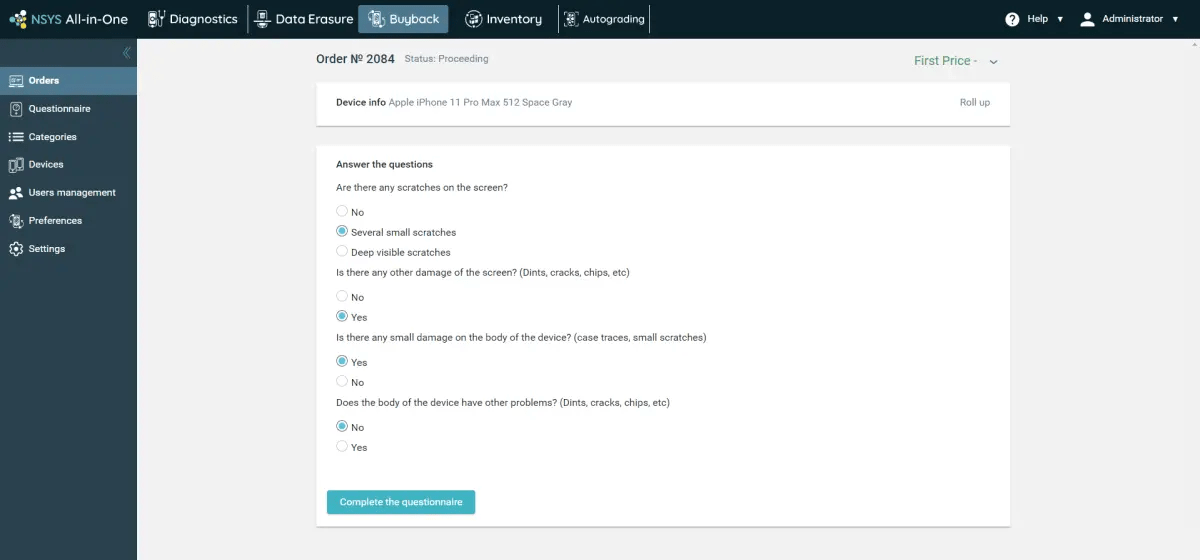 We have drastically reduced the time required to process a trade-in deal, now it takes a few seconds only. Here is how:
Use the Basic Info licenses to fill automatically the main phone details like IMEI, model, storage capacity, etc.;
Or, retrieve the details about the device automatically by connecting it to the computer;
Place all questions from your questionnaire on the same page to avoid unnecessary clicks;
Select the color of the phone from the list specified by the device model.
NSYS Autograding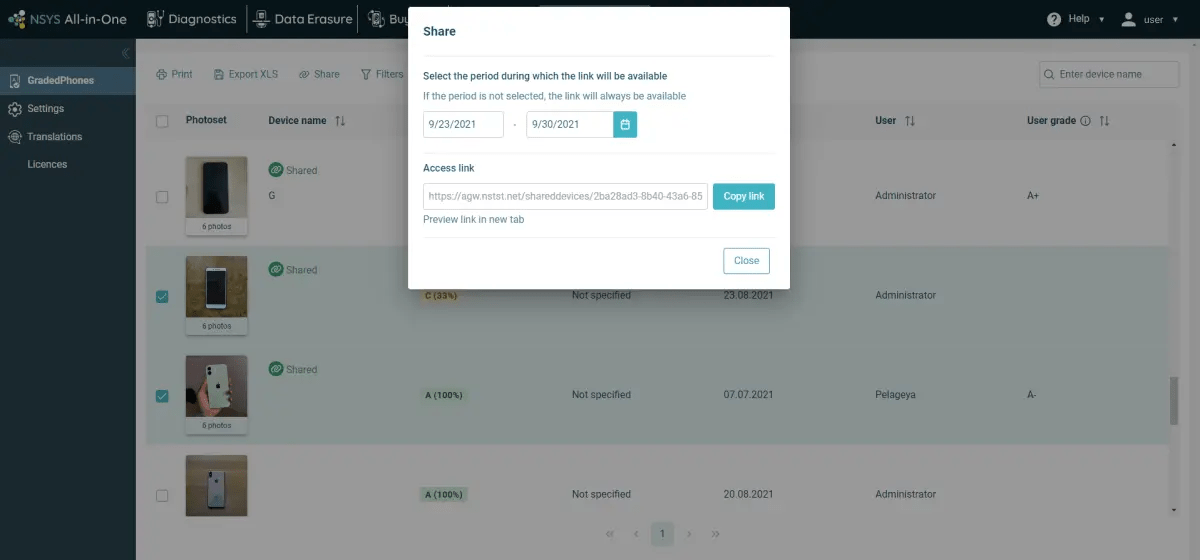 In addition to the NSYS Autograding app, we have introduced a web interface for our Autograding solution. This interface allows you to see the history of all devices you graded and share the photos from 6 sides of any used phone from your stock. You can share these in several clicks on marketplaces, in various chats and groups using public links. We believe that this new feature is a real leap forward for mobile businesses in terms of transparency, reliability, and clarity for their customers.
NSYS Inventory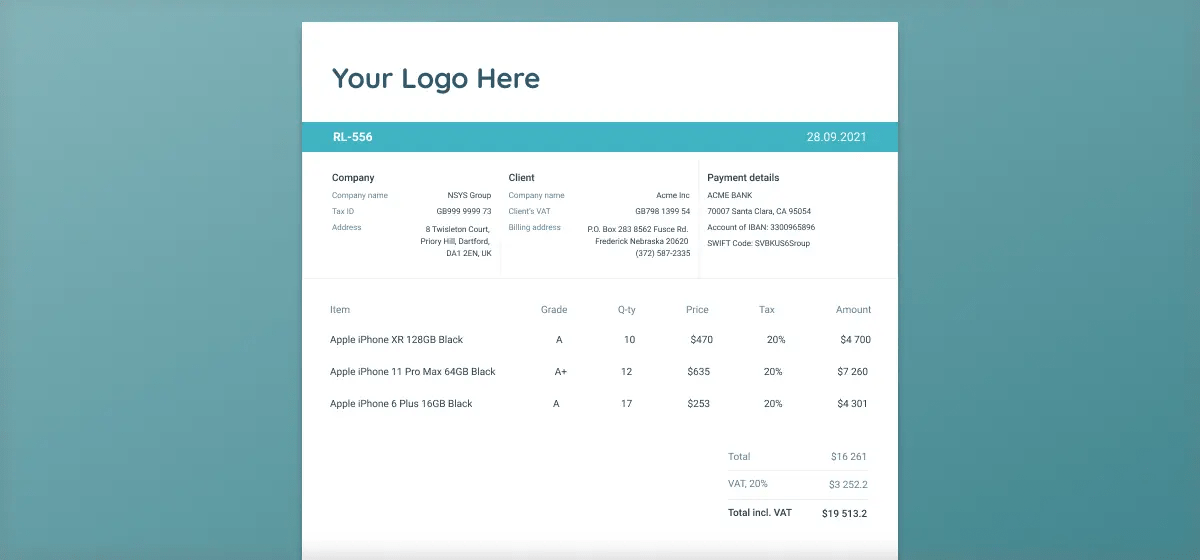 Invoice updated
Send professional invoices to your customers. Let NSYS Inventory automatically generate invoices that highlight your brand. Limitless page count, your logo on the very top of the page, clear and simple design help you to build good ongoing relationships with your customers.
Marginal & Classical VAT count
With our VAT counting automation, you can easily add taxes to your invoicing process. Charge customers with either classical or marginal VAT.
New margin reports
Trace which products bring you the most profit. See what is on-demand and brings you more money. Use a new turnover report to see how long your investments have been lying on the shelf.
Management of every unit cost
Add every unit cost into every item to hold your real costs in the system. Track repairs, detail replacements, and all additional expenses.
SKU filtering
While browsing through the list of items, now you filter devices by their SKU.
Can't wait to try NSYS All-in-One out? Contact our sales team now and arrange a free presentation to see all new features in action!